Dodgers Fans in Houston Chanted 'Cheaters" at the Astros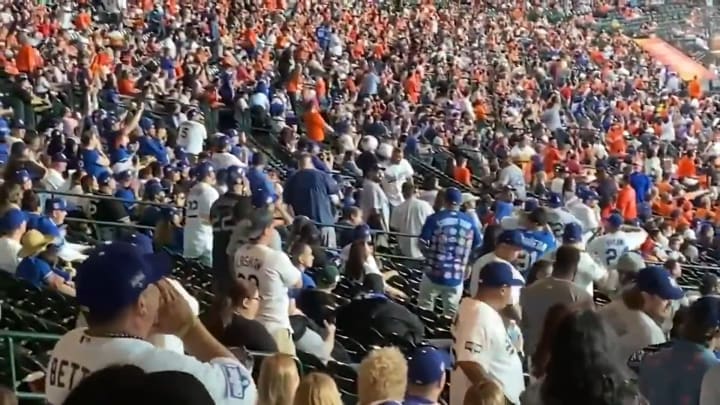 Los Angeles Dodgers fans yell "cheaters" at the Houston Astros /
Los Angeles Dodgers fans haven't gotten over it. They're still stinging from their loss to the Houston Astros in the 2017 World Series, that feeling was enflamed by the sign-stealing scandal that erupted in November of 2019. Tuesday night in Houston, Dodgers fans got their first chance to let Astros players hear about it.
Tuesday's contest in Houston was the first time the Dodgers and Astros have played in front of fans since news of the cheating scandal broke. LA's fans traveled well and unloaded on Houston.
Here was the scene as a huge section of Dodgers fans unleashed a "cheaters" chant in Minute Maid Park:
The Dodgers absolutely hammered the Astros in the game too and had the home fans heading for the exit. LA fans also waved goodbye to those Houston supporters exiting early.
This was always coming. The Astros avoided this during a fan-less 2020 season, but we all knew they'd eventually have to face this kind of music. Dodgers fans are still furious over the 2017 World Series, which they lost in seven games.
The Dodgers and Astros did play in 2020, and it gave us one of the most memorable moments of the season, as Joe Kelly and Carlos Correa got into it:
I'd imagine Dodgers fans will do this to the Astros every time they play for the foreseeable future. And I'd image the Dodgers player will be ticked about it for years.