DJ Khaled Aiming to Become Heat's Equivalent of Drake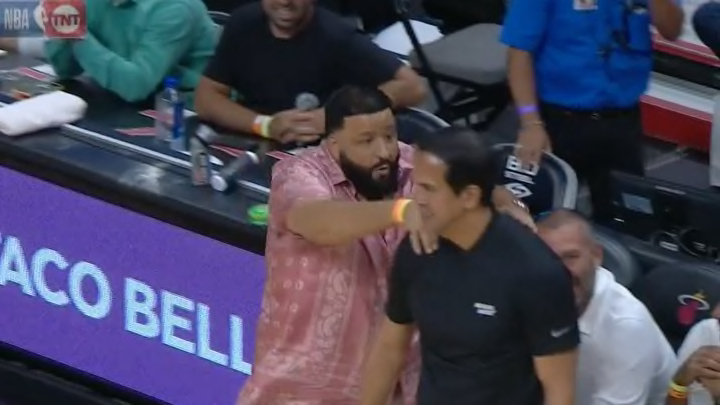 DJ Khaled and Erik Spoelstra /
The Miami Heat had a grand old time last night during their demoralizing beatdown of the Philadelphia 76ers. They dominated the second half and ultimately won by 35 points. Game 5s are generally very important when the series is tied 2-2 and the Heat delivered big-time.
The fun energy in the arena in the final two quarters is perfectly exemplified by DJ Khaled, noted superfan of all things Miami. At one point, a ball went careening into the stands and Khaled took charge of retrieving it before walking where spectators are not supposed to walk during live action and then giving Erik Spoelstra a quick shoulder massage.
Normally a fan giving a head coach an impromptu back rub during playoff action would be grounds for immediate ejection, regardless of how famous that fan may or may not be. But Spoelstra loved it and said as much after the game.
Khaled saw his opportunity and took it. It paid off. Especially since he now can follow the blueprint set out by Drake during the Toronto Raptors' championship run to become the Heat's unofficial (or maybe official, if they like him enough) famous person ambassador.
Khaled isn't as famous as Drake among the non-music crowd so it won't be the same thing, but it's clear that Khaled has the local sway to make it happen. Don't be surprised if we get more Khaled shenanigans this postseason.