Dick Vitale Raised $100K to Fight Pediatric Cancer Just By Inviting Two People Over to Watch Basketball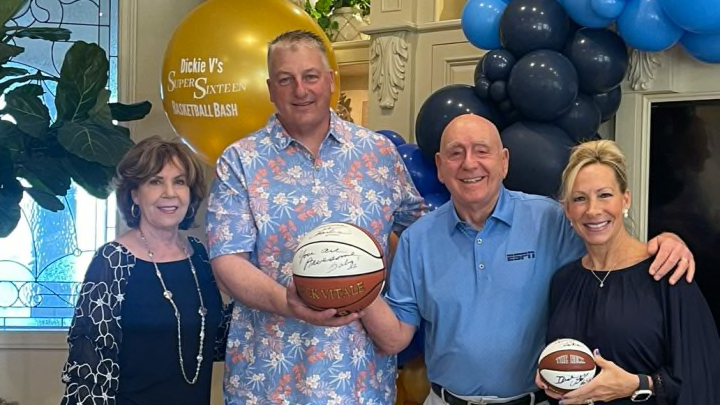 Dick Vitale, his wife with the winner of DICKIE V'S SUPER SIXTEEN BASKETBALL BASH. Photo: @dickiev /
Dick Vitale recently opened his home to two complete strangers. They watched the Sweet 16 together. There were gifts, flowers, balloons and a spread you wouldn't believe. Memories were made and a good time was had by all and it was all to benefit the Dick Vitale Fund for Pediatric Cancer at theV Foundation.
With apologies to college basketball and his wife, this seems like the thing he cares most about right now. At 83-years old, you can hear the passion in his voice when he's talking about raising money for these kids and their families. The same passion that sports fans have heard on the air at ESPN every winter for four decades. It's obviously a more serious topic, but it gets the same enthusiasm and energy that Vitale has shown for hoops his entire life.
"It's devastating,'" Vitale told The Big Lead. "They hear those words today… It's life-changing when they hear those words. It's chemo and radiation. Parents tell me they can't concentrate at work. Parents tell me they can't work. They go to work and their mind is on their little boy, their little girl doing chemo."
So with the college basketball season winding down, Vitale did what he always does: try to raise some money to help those kids and their families. In his own words, he's obsessed with it and he wants to give back and help out.
"LIfe's been good to me. God's been good to me. I've had a great job for 40 years with ESPN. Made some good money in my career. I've lived a good life. I want to give back now. So I'm pouring all my energy into this. I'm obsessed with it."
About a month ago, on a whim, he basically decided to invite some people over. What if there was a raffle and the prize was a trip to his house to watch March Madness? People would probably pay for that, right? Given the green light by his wife and Shane Jacobson, the CEO of the V Foundation, he put together what would be called Dickie V's Super Sixteen Basketball Bash.
Vitale is calling the Final Four for ESPN International, but wasn't part of any Sweet 16 broadcast so this was the perfect opportunity. After doing SportsCenter hits in the morning, he opened his home for the games. In case you were curious, he's picking UConn to win it all and is thrilled to see all these upsets, like when Miami and San Diego State eliminated the remaining No. 1 seeds the night of the watch party.
"It's been documented that Dickie V wants the little guy," Vitale says. "I just believe the tournament belongs to those that have super success. We have a tendency that we reward mediocrity because teams play in these elite power conferences. And all we scream and yell about is the quad ones, the quad two wins. We yell about the Net ranking. And that all favors one thing. That all favors the big guys. All they need is an eye test. I find it very disheartening that these teams win 27-28 games, but they get upset in their tournament and they reward someone who is under .500 in their conference. I think that's totally ridiculous. The tournament is supposed to recognize teams that are great all year."
He promoted the event just twice on-air on ESPN. Each time around 300 people bought a chance to meet the ubiquitous voice of college hoops. In the end, with minimal promotion, the raffle raised $100,600. Tammi Johnson, the winner of the raffle, heard about it during a game and immediately entered. "I've watched him for years," Johnson told The Big Lead. "I just think he's such a fantastic person for cancer and the kids. And I can't believe the energy he has for an 83-year old man."
Tammi was having a rough week and couldn't believe when she found out she had won. In a very short time Vitale put together a fully catered party for Johnson and her husband, Charlie. He also invited 20 of his friends over for the watch party. After a night at Vitale's house she can report that he was every bit the host you would expect. "It was awesome. We were immediately comfortable."
In addition to the watch party, Tammi and Charles got an all-expenses paid trip to Sarasota, including airfare, a hotel and transportation. For good measure Vitale threw in a sunset dinner cruise for the couple and greeted them with a bunch of signed Dickie V swag. Guests and host were both thrilled with how it went. Like everything with Vitale, it was above and beyond. And maybe you will be next.
"We made it a real bash because I'm telling you the potential is unreal." Vitale is going to start promoting the second annual Super Sixteen Bash at the start of next basketball season. The first was a huge success and he only promoted it twice in two weeks. "If I can do this all year. I know I'm getting optimistic, but I think we can raise $500,000."
And that's the only thing that really matters at this point. Raising money to help the families going through something awful. Vitale is going to use his passion and visibility and home and whatever else he can use to raise as much money as possible. If he puts a smile on a few strangers faces while doing so, well, awesome too.