Diamondbacks Fan Does Cannonball Into Ballpark Pool After Game 4 Home Run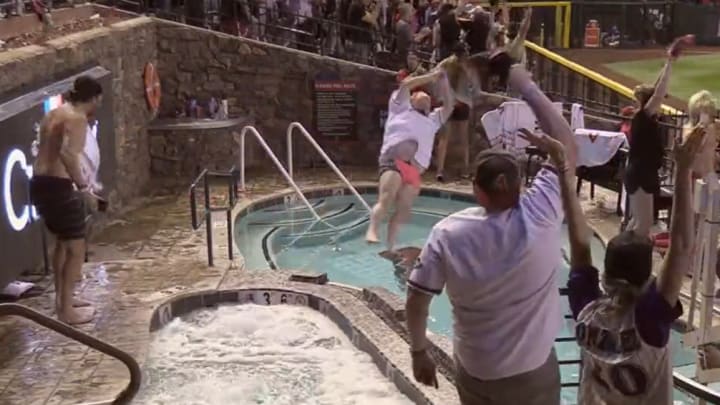 The Arizona Diamondbacks lost to the Texas Rangers in Game 4 of the World Series, but that doesn't mean their fans weren't having fun. Texas led 11-1 at one point, but a four-run rally in the bottom of the eight gave D-backs fans hope. That rush of runs was capped off by a three-run home run by Lourdes Gurriel Jr. To celebrate, an Arizona fan dove into the outfield pool at Chase Field.
Check this out:
That's not quite a cannonball, more of a back-flop, but it had the desired cannonball effect. It was awesome. Good for that guy having some fun, even when his team was down. He was rewarded in the top of the ninth, when Corey Seager ripped a ground-rule double into the pool area and it bounced right to him.
The D-backs added two runs in the bottom of the ninth to make the score look more respectable at 11-7, but they'll enter Game 5 of the series facing elimination. Still, their fans have shown they'll show up and show out -- and occasionally get wet -- for their team.