Latest NFL Leads
DeVonta Smith Rocking Eagles Green Suit Ahead of Giants Game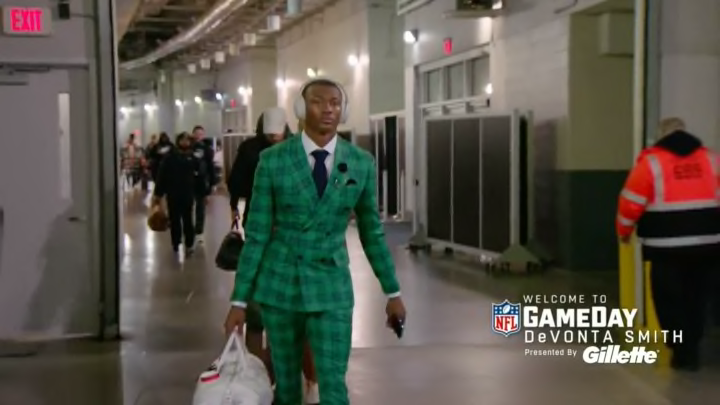 DeVonta Smith /
DeVonta Smith has had a rock-solid rookie year for the Philadelphia Eagles, notching 46 catches for 664 yards and four touchdowns in his first 11 games as a professional. Much of this success can be chalked up to his weekly suit decisions, which have been consistently elite since Week 1.
Today, Smith showed up to an important divisional matchup with the New York Giants wearing an Eagles green suit that is somehow pulled off exceptionally.
I say "somehow" because Philly green is not a particularly easy color to wear. It's tricky. The wrong pattern can make a nice suit offensive to the eyes. But Smith not only is loyal to his team and will wear their colors before, during, and after the game, but he has fashion sense, too. The plaid styling is the perfect level of subtle here.
Smith has been the wideout that was promised for Philadelphia, a franchise that has regularly attempted to find a No. 1 receiver in the draft for the last five years. They've found one, and he has great fashion sense to boot. A home run pick for the Eagles.