Twins Fan In Absolute Hell After Dropping Routine Foul Ball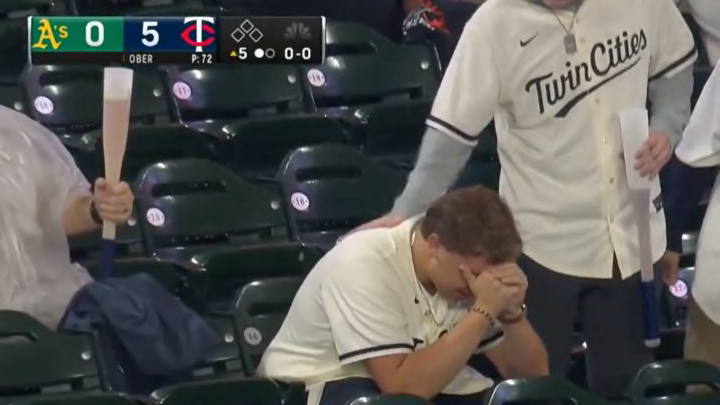 Across the entire landscape of human experience, few things compare with catching a foul ball at a Major League Baseball game. Anyone who has ever been lucky enough to be in the right place at the right time with the motor skills required to pull it off is thrilled to discover that reality matches expectations. Anyone who has ever blown what will probably be their only opportunity knows the crushing heartbreak that comes with what could have been.
So we feel for the Minnesota Twins fan who was among the spectators at last night's A's game in Oakland. Everything lined up for him to have a souvenir and a memory for a lifetime and he just blew it. If that wasn't bad enough he had his anguish on full display for the world to see.
Guy is really going through it. That is 100 percent not an act. You can actually see the exact moment his heart breaks.
Can you even imagine the ride home after this? If you're one of his buddies you want to say something but you don't know if enough time has passed to joke about it. Everyone just on eggshells until someone breaks the dam and things get very contentious.
The best medicine for this is to go to another game tonight and pray the universe gives you a second chance.