Rowdy Detroit Lions Fans Chant 'Super Bowl' With a Straight Face, Couldn't Be Happier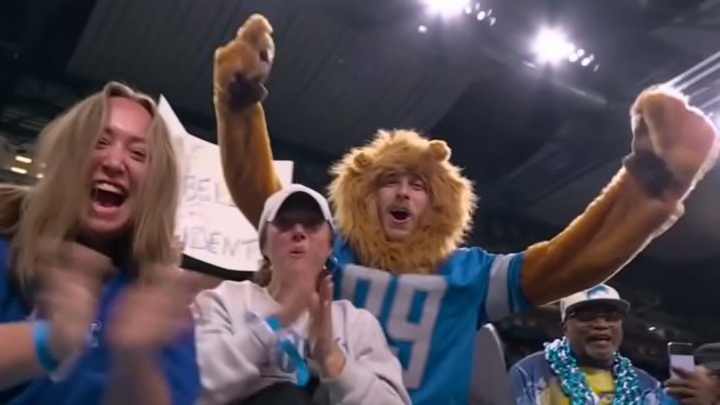 Jahmyr Gibbs announced himself to the world last night on Monday Night Football, collecting 189 yards from scrimmage as the Detroit Lions force-fed him the ball en route to a 26-14 victory over the Las Vegas Raiders, which was not nearly as close as the final score suggests. The performance showed why the franchise was willing to reach for him in last year's draft and showed why the fanbase is so excited about the short- and long-term possibilities. After helping his team reach the 6-2 mark headed into a bye, Gibbs joined Scott Van Pelt on SportsCenter for a free-flowing conversation that occasionally touched on how the rookie is maturing.
It was a victory lap in front of people who have been insanely thirsty for victory. Ford Field was literally as loud as its ever been last night — packed to the gills and just a happy place in general. So it's no surprise that a good amount of people stuck around for the postgame to drink in the moment. One thing led to another and a "Super Bowl" chant broke out. In Detroit. Without sarcasm.
I'm going to tell you something. This is a weird ride. No Lions fan is entirely confident what to do with their hands or what to say. But damn, it's halfway through a season and a shared statement that the Super Bowl is in play isn't the craziest thing in the world. A fever dream of bashing in a soft schedule to capture the NFC's No. 1 seed and homefield advantage throughout the playoffs now looks pretty reasonable. Beating, say, Tampa Bay and either San Francisco or Philadelphia in a raucous dome back-to-back weeks feels doable.
Hearing that chant, no matter how serious you think it is, means a new chapter of whatever this thing Dan Campbell is creating. He has pretty much everyone believing. Hell, when he lined up to go for a fourth-and-goal from the 8 yard-line for no reason at all, I couldn't help but find myself supporting it (or supporting him).
Ask any Lions fan this morning if they truly believe Detroit can win the Super Bowl this year and they'll probably tell you they don't. Making the Super Bowl, though? That's a different story. And just having as good a shot as anyone is worth celebrating at a time when every new thing is worth celebrating.
Add an S next time and chant for Super Bowls. Get weird and greedy with it.