We Should All Be Mad at Bill O'Brien For Wasting Years of Deshaun Watson's Prime Like This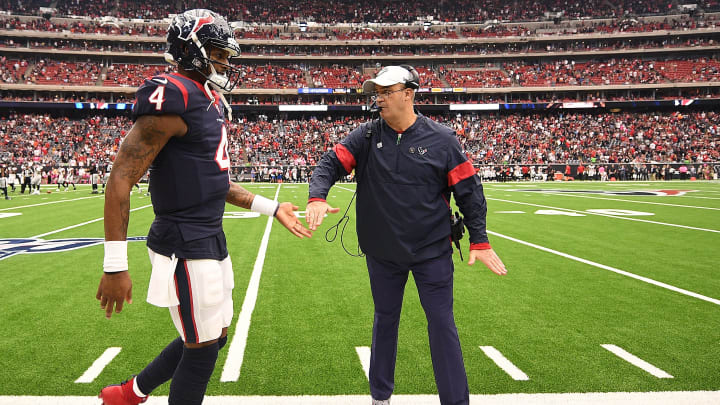 Bill O'Brien and Deshaun Watson / Mark Brown/Getty Images
The Detroit Lions had another sorry showing on Thanksgiving under the "guidance" of Matt Patricia this year. They were beaten down by the Houston Texans, who are in the midst of their own no-good, very bad season, by the score of 41-25. It was, at the very least, an entertaining game filled with trick plays and exciting scores, which we fans will take in lieu of a well-played game.
Deshaun Watson had another huge week in the process. Against the New England Patriots last Sunday, he was essentially perfect, completing 28 of his 37 pass attempts for 344 yards and two touchdowns to go along with a rushing touchdown. It was more of the same on Turkey Day, as he carved up the Lions D to the tune of 318 yards and four touchdowns on 17-of-25 passing. Watson's Thanksgiving performance also marks the sixth week in a row without a turnover. He has been outstanding, even if the team's record does not reflect that.
And ya know why the team's record doesn't reflect their star quarterback's play? Bill O'Freakin'Brien. This is entirely his fault. Watson is playing great football and we can't even appreciate it because the rest of the team is so bad. O'Brien traded away DeAndre Hopkins for a player who didn't suit up today and a second-round pick. O'Brien gifted the team's best draft capital to the Miami Dolphins for a left tackle. O'Brien mismanaged the team so badly that even elite quarterbacking cannot overcome it.
We should be upset about that. Well, I guess you wouldn't be upset if you were a fan of the other teams in the AFC South. But otherwise, for those with no stake in watching, there's few more enjoyable football players to view than Watson. He's fun! Fun players deserve to be on good teams that win games and don't embarrass themselves in two-thirds of their games. Watson deserves to be on the biggest stage of the biggest league in the world, wowing fans with his Houdini escape tricks.
But he is not. We don't know how long we'll get to enjoy Watson at the peak of his powers like he is right now. This year is a complete wash, and next year probably will be too since Houston doesn't have a first or second-round draft pick in the upcoming draft. And it's Bill O'Brien's fault. We should never forgive him.