Deshaun Watson Intercepted Twice By Pittsburgh on the First Play of the Monday Night Football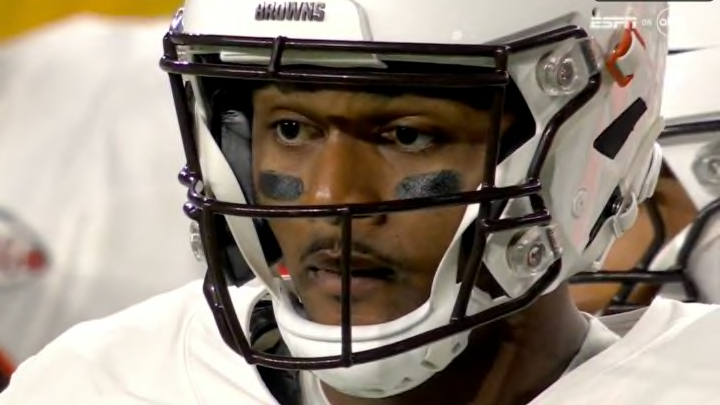 The Cleveland Browns - Pittsburgh Steelers Monday Night Football game had a nightmare start for Deshaun Watson. After a touchback on the opening kickoff, Deshaun Watson took a snap in the shotgun formation on the first play of the game. Watson threw the ball to tight end Harrison Bryant, but he had to reach for the pass and it slipped through his hands. Minkah Fitzpatrick caught the ball and as he turned, got hit by Bryant. The ball then went flying and was caught by Alex Highsmith who ran back the pick-6.
The ESPN play-by-play only notes Highsmith intercepting the pass and running it back, but Fitzpatrick also appeared to make a clean catch which means Watson was picked off twice on the same play. The look on Watson's face said it all.
Watson threw for just 154 yards, one touchdown and one interception in the Browns season-opening win over the Cincinnati Bengals. If the first play of Week 2 is any indication, he's going to have to do a lot more if the Browns are going to remain undefeated.
In six games last year, Watson completed a career-low 58 percent of his passes to along with seven touchdowns and five interceptions. Cleveland went 3-3 in those games.