Derrick Brown Had to Be Held Back From Going After Michael Thomas in Tunnel Following Saints-Panthers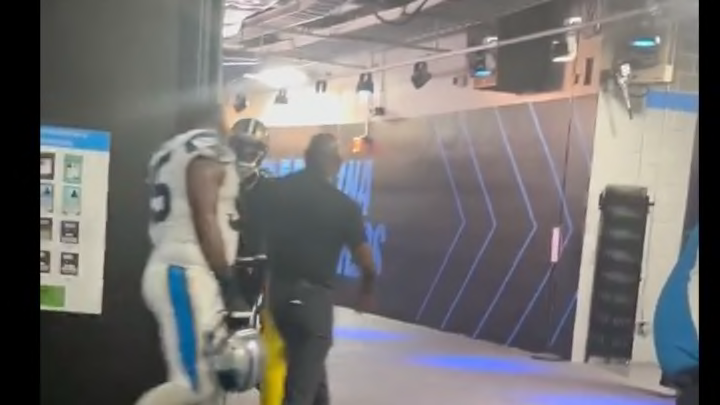 Derrick Brown and Michael Thomas /
Last night the New Orleans Saints squeezed out a 20-17 win over the Carolina Panthers on the other Monday Night Football game. It was not a pretty affair and a garbagetime Panthers TD gives the illusion that it was closer than it was. But the Saints obviously don't care. A win is a win.
Afterwards, Michael Thomas (who had seven catches for 55 yards) was captured talking trash to Panthers defensive lineman Derrick Brown in the tunnel as the pair walked back to their respective locker rooms. Brown got so worked up about it that he tried to go after Thomas, rounding the corner and had to be held back from presumably entering the locker room.
Here's the video.
I wouldn't go so far as to call it "charging" since it didn't seem like Brown made much headway but he did try to go after Thomas. Not a great look for the former No. 8 overall pick. Gotta keep your head cool off the field.
It will be several months until Carolina can get revenge on their divisional rivals. The Saints will come to town in December. Then Brown can take out his anger at Thomas on the field.