David Jacoby Has Joined 'The Carton Show' on FS1
A familiar face made his debut this morning.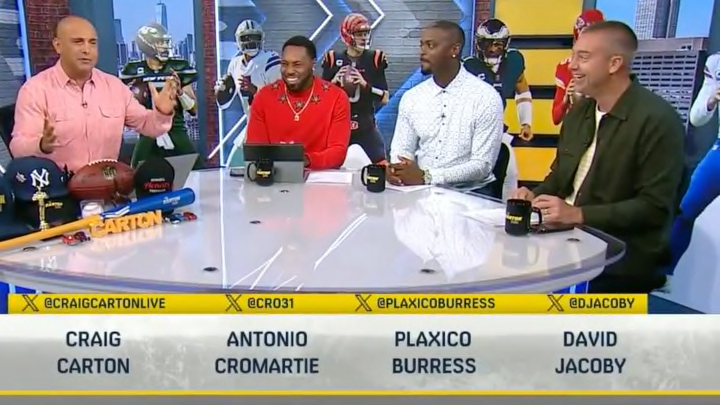 Late Sunday night the New York Post, as it's wont to do, reported that former ESPNer David Jacoby would be joining The Carton Show on FS1, and he'd be on-camera all bright-eyed and bushy-tailed Monday morning as the network celebrates the first day of its future with all sorts of roster changes up and down the card. And this morning, there Jacoby was, getting his official welcome as the first embers of actual football season floated around in the air.
"Let me just acknowledge that we have a new member of the show," Carton said. "Although for the last few months he's been working behind the scenes and became so much of a pain-in-our-ass in meetings that we decided to put him on camera. If it fails miserably, it's his fault."
Brass took a more serious, less funny approach.
"We're thrilled to add Jacoby and his unique blend of attributes to The Carton Show," said Charlie Dixon, executive vice president, of content at FS1. "Given his extensive experience as both a broadcaster and producer, as well as his wealth of sports knowledge, we're confident Craig and Jacoby will deliver an incredible show to kick off our lineup each morning on FS1."
Fact-check? Probably true.
Jacoby has been nothing if not solid in everything he's done and plays off many different types of personalities with ease. More importantly, he's an Ideas Person at a time when it's harder and harder to find something that stands out and differentiates in a crowded field. His affable personality should work well against the fiery and unapologetic Carton as well as the guests they rotate in.