David Culley is the Wrong Choice for the Houston Texans, Even if He's a Great Head Coach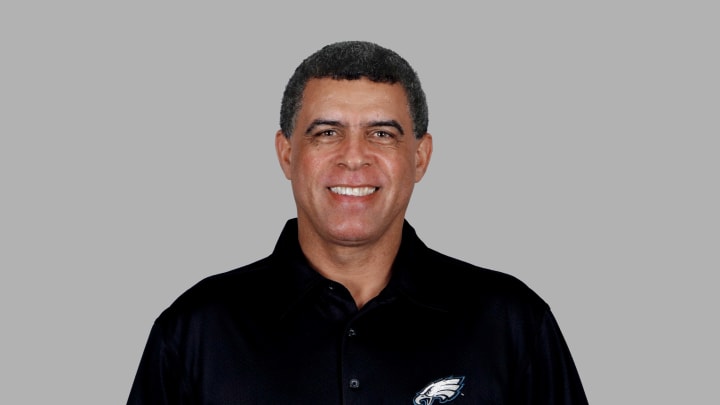 David Culley, back in 2008. / Getty Images/Getty Images
David Culley is the new head coach of the Houston Texans. Culley accepting the Texans job will conclude one of the weirdest head coaching searches in NFL history. Culley, who has been coaching football for half a century, may turn out to be an excellent NFL head coach, but this hiring will always be the wrong choice.
If you're not familiar with his work, Culley worked with Andy Reid from 1999 to 2016. More recently, he was the passing game coordinator/wide receivers coach/assistant head coach for the Baltimore Ravens this season. The Ravens finished dead last in passing offense. They were 27th in 2019, but quarterback Lamar Jackson won the MVP. Culley was also quarterback coach in Buffalo during Josh Allen's rookie year.
Now, I don't want it to sound like I'm bashing Culley. He is obviously a good, well-respected coach. He's been doing this at a high level for a long time. He might turn out to be a very good head coach. Even then, how can you not question this hiring while Eric Bieniemy remains a coordinator? Not because of anything Culley has or hasn't done, but because he's in the Super Bowl again and he's 15 years younger.
Culley will turn 66 early next season. Even if he is a GREAT head coach, how much longer is he going to coach? The oldest head coach in NFL history was George Halas, who coached until he was 72. Pete Carroll is one of the oldest coaches ever and he turns 70 next season. Bill Belichick will be 69 in a couple months. How much longer do you expect either of those guys to coach? How much longer should we expect Culley to coach?
Hiring a 65-year-old first-time head coach is insane. There is really no other way to say it. Don't get me wrong, this is an awesome story for Culley. This is a guy who has been in the NFL for a quarter of a century. He's been coaching in college football or pro football for more than 50 years. To get this opportunity is awesome. He is somehow the only black head coach hired this season while one of the most qualified candidates you will ever see remains a coordinator preparing for another Super Bowl. So congratulations to Culley, but this is another bad decision by the Texans.
Again, hiring a 65-year-old first time head coach is literally unprecedented. When the Denver Broncos hired Vic Fangio two seasons ago, he became the oldest first time head coach in NFL history at 62. How do I know that? Thin Air, a Broncos' blog, looked into it and found out that Bruce Arians was the previous answer to that trivia question at 61.
Also thanks to Thin Air, I know that two offseasons ago the average age of a first-time NFL head coach was 46.5.
Why? Because when you hire a head coach, you hope you just hired the guy who is going to lead your team forever. You want a guy who is going to be build a culture and be there for decades. You want George Halas or Bill Belichick. Is that not the goal? That's what the Rams want from Sean McVay. Even if Culley is the next Belichick, the Texans are going to be looking for a new head coach before the Rams.
If Culley is absolutely incredible as a head coach, how many years until he retires? The Texans won four games this season. Deshaun Watson and J.J. Watt look like they're headed out the door. Can Culley get them to an AFC Championship Game before he's 70? If Deshaun Watson actually leaves, will the Texans have a top-10 quarterback before Culley retires?
If Culley pulls that off? That's great. His story can be one of those inspirational sports stories. A guy just kept punching the clock every day and when he finally got his chance, he seized the opportunity, gave his big speech and got the best out of his players and maybe they even win the big game.
We all know that's not going to happen.
That is so unlikely it's almost not even worth thinking about. The Texans had a star quarterback who wanted the guy who should be the top candidate. The Texans have botched this coaching search from the beginning and they've probably lost their franchise quarterback while doing so. A world might exist where Deshaun Watson stays and David Culley helps him win a Super Bowl, but this isn't that world.