Grumpy Nationals Manager Dave Martinez Scolds Elly De La Cruz After Sick Corked Bat Home Run Celebration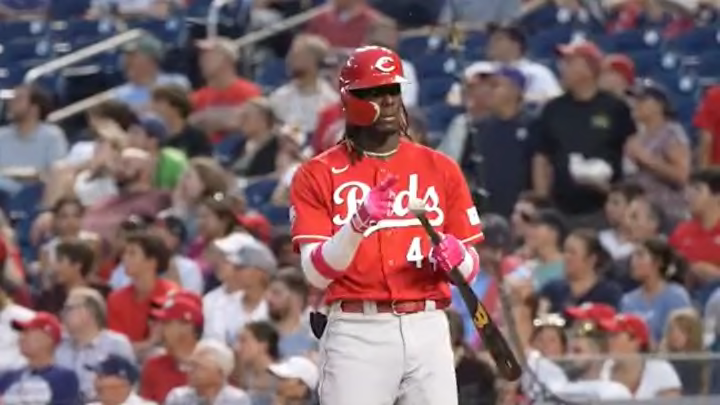 Elly De La Cruz /
The young legend of Elly De La Cruz grew even more last night during an otherwise forgettable regular season affair between the Cincinnati Reds and Washington Nationals. Early in the contest, De La Cruz went up to the plate but was stopped because the Nats asked the umpires to check his bat. The rookie has a weird knob thing at the bottom of the bat, apparently a piece of plastic that used to be a sensor used in spring training, but in the month EDLC has been in the bigs only Washington has felt the need to get the umpires on the case.
De La Cruz did not like that very much and expressed his feelings on the matter by absolutely crushing a 455-foot homer merely three innings later. He turned around and pointed to the bottom of his bat before beginning his home run trot. It was absolutely ice cold. Most people only dream of looking that cool at any moment in their lives.
Watching a young talent explode onto the scene can make one forget that baseball is filled with old fogies. Nats manager Dave Martinez wasted no time in reminding everybody of that. After the game he chided De La Cruz for celebrating in such a manner because he hasn't been around long enough to earn that right.
Talk about coming across as a huge whiner. He's not allowed to get mad about that celebration when he caused it himself. And I thought we left this kind of unwritten rule discourse behind!
As always, the only response to comments like Martinez's is simple: if you don't like it, don't let it happen.