Daniel Jones Suffers Ugly Non-Contact Knee Injury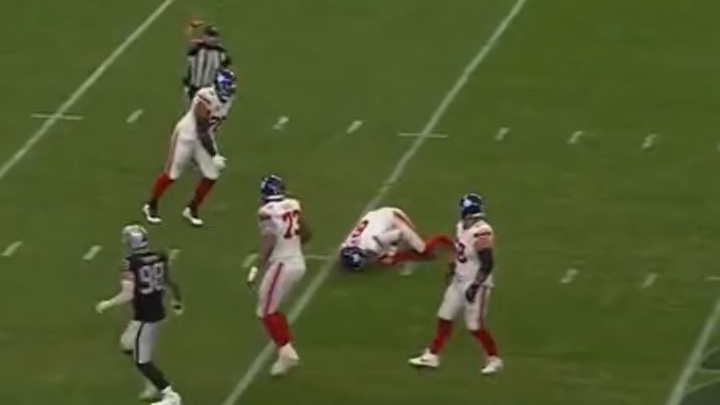 Daniel Jones returned to the New York Giants on Sunday after a few weeks on the shelf and it appears he's suffered a serious knee injury. It came as Jones dropped back to pass and it looked as if his knee gave out.
Here's video of the play:
Apparently, this isn't actually the play were he got hurt. The injury likely came othe previous play when he stepped up in an attempt to scramble:
You can see his right knee buckle when he plants it. The fear is obviously a torn ACL. He was up and walking but immediately went back to the locker room.
Tommy DeVito entered the game for the Giants and promptly threw an interception. The Las Vegas Raiders currently lead 21-0 late in the first half and it looks like things are only going to get uglier for the struggling Giants.
It has been a rough season for Jones after he signed a big contract extension in the offseason. Entering this week he had only played five games and while he was completing 68.9 percent of his passes, he only had two touchdowns against six interceptions. His passer rating (71.7) and QBR (39.2) were near the bottom of the NFL.
UPDATE: Jones has been ruled out of the game.