Fugitive Killer Danelo Cavalcante Captured in Philadelphia Eagles Sweatshirt, Police Posing For Photos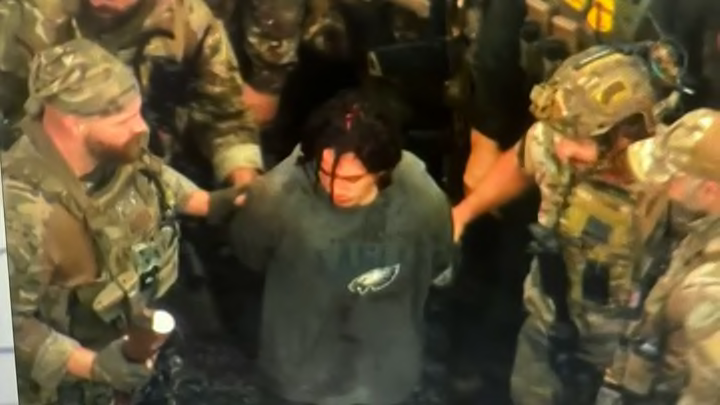 Danelo Cavalcante, a convicted killer, escaped from a Pennsylvania prison almost two weeks ago and had been the subject of a massive manhunt until he was finally captured by authorities this morning. State police will hold a press conference at 9:30 a.m. ET to brief a public that's been gripped by fear as Cavalcante remained free. But they are already surrounding him to take pictures like an NFL defense that just picked off a pass and ran down to the other endzone to do that crossed-arms thing.
It's certainly a choice.
Calvacante happened to be wearing a Philadelphia Eagles sweatshirt when he was apprehended. Which is not the type of exposure any franchise is looking for but also entirely unsurprising.
Many are pointing out that the photo-op seems a bit strange after this guy spent 13 full days out there without being apprehended. Maybe it is. We don't have immediate access to any type of guidance when it comes to how you roll out a big fugitive capture in 2023. And having a robust social presence is important no matter what industry you're in.