Dana Perino Imagines World Where Libs Allow Local Police to Declare War on the Snow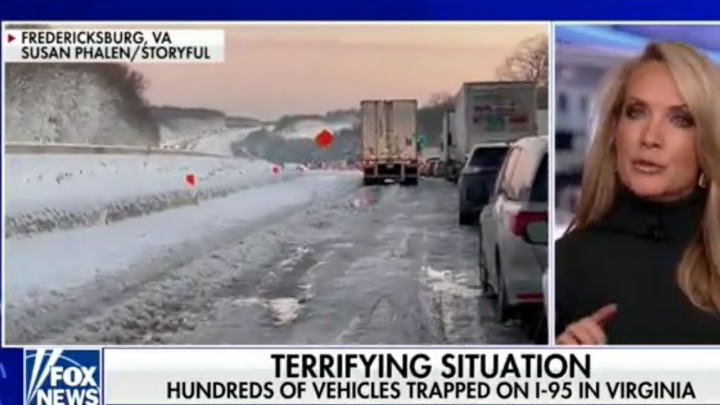 A major snowstorm in and around Washington D.C. created hellish traffic conditions on I-95 where some drivers were stranded for more than 27 hours, including former Sen. Tim Kaine. The entire ordeal was less than pleasant for all involved and yet another reminder that if you inspect the seams of America's stitching, you may not be particularly impressed with the overall product. Our nation's capital is not alone in appearing wholly unable to respond to severe weather events, which will only become more routine in the future.
Dark stuff. At least Fox News' Dana Perino was able to provide some levity by positing that this whole mess could have been avoided if the libs simply let local police departments have military-grade equipment.
"I want to point out one thing that I do not believe has been said yet," Perino said. "I talked to a state legislator there in Virginia and he pointed out to me that in the last several years, many on the left made the decision that local sheriffs should not be allowed to have military-grade equipment. Right? Because they said that that was a bad symbol and that it was too militaristic and authoritarian. But imagine if they were able to have the equipment that they were allowed to have just a few years ago. It probably would have come in very helpful today."
The transfer of military gear to state police in Virginia actually more than doubled last year, if that matters. Maybe it doesn't.
There's no reason to be the 15,029th person attempting to out-dunk the previous dunker here, so I will earnestly wonder what equipment this person was talking about. It doesn't seem entirely helpful to have large trucks rolling over occupied vehicles and there could be some adverse effects to firebombing hundreds of miles of snow-covered land. A few years ago I was lucky enough to spend some time with troops stationed in extreme Northern Norway and they had a ton of badass stuff for the snow but even that stuff wouldn't have been particularly instrumental in solving a winter-weather traffic jam on I-95.
And it'd be weird if a Virginia hamlet had a random stockpile of these massive vehicles. It seems like if military-grade equipment was needed in the D.C. area, the quickest and most efficient way to procure it would be to tap the actual military. There are no fewer than 10 bases within scrambling distance. We can all see they didn't quickly clear up the problem either, even with a limitless budget.
So more than anything, I'd like some specifics here. What does this legislator who reached out to Perino envision for the future? Willing to hear them out if only because it promises to be additional content.