Dan Orlovsky Spirals On Camera as 'Get Up' Compares Daniel Jones and Lamar Jackson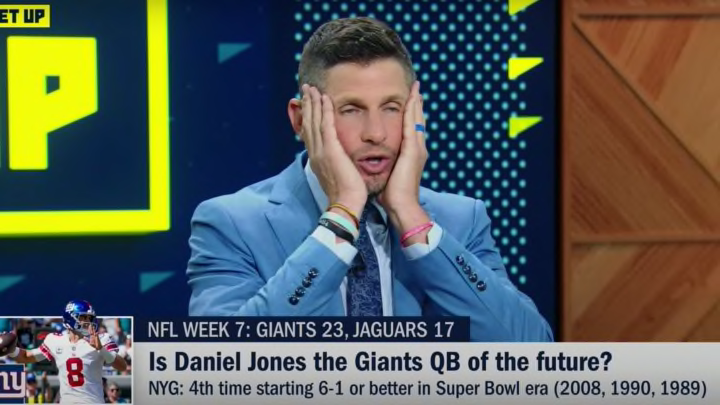 Dan Orlovsky /
The New York Giants, against all odds, have started the season 6-1. Nobody has any illusions about this team's ability to compete for a championship but Brian Daboll deserves his roses for making an instant impact as a first-time head coach. The team as a whole runs smoothly under his direction and his offensive playcalling has been immaculate. Most impressively, he's managed to limit the notoriously turnover-prone Daniel Jones to merely two picks and two fumbles lost through seven games while unlocking his running ability.
The Giants aren't going to win any shootouts but a well-coached team with a dangerous running back and a smart defense can go far. However, it also makes for easy debate fodder as to how important Jones really is to this team. Most of the Get Up crew, led by Rex Ryan, praised the young QB this morning for his winning efforts and Ryan took a victory lap for being one of the few guys who said Jones could be a viable NFL player after he got picked sixth overall in 2019. Dan Orlovsky, though, was adamant that while Jones has been good the Giants have had to go to great lengths to ensure he doesn't screw things up to win, highlighted by the fact that New York called all of seven pass plays in the second half of yesterday's victory.
This launched a passionate argument between Orlovsky and everyone else that eventually led to Ryan saying nobody criticizes Lamar Jackson when he wins by running the ball, which sent Orlovsky into a spiral on camera. Things got worse when Mike Greenberg said that if Jones had Jackson's wide receiving group he'd be much better.
Gotta side with Orlovsky here. Just because both quarterbacks have made plays with their legs rather than their arms this year doesn't mean they're anything alike. To even hear their names mentioned concurrently makes one feel like the crazy pills are kicking in.
Tremendous television by the ESPN analyst regardless.