Dan Orlovsky's List of Top 5 NFL Quarterbacks Will Inspire Shock, Anger, Horror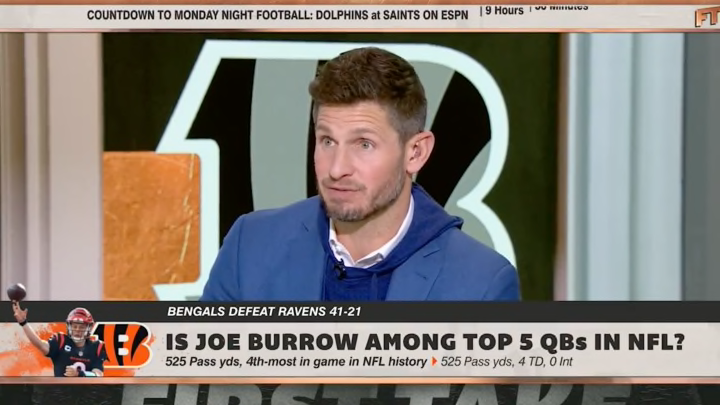 Dan Orlovsky delivering a scalding take /
Dan Orlovsky occupies a very particular sweet spot of analysis where he can intelligently disseminate information quickly while simultaneously crafting well-informed takes that border on absurd, but don't sound absurd due to his presentation. It's a difficult balance to strike, but one that Orlovsky strikes very well and it's why he can make for great television now and again for ESPN.
Thus we arrive at today's controversy, featuring Orlovsky's list of the top five quarterbacks in the NFL right now. it caused quite a stir. Emotions were felt in extremes. I hope you are ready.
Orlovsky spends an awful lot of time defending Burrow's placement on the list, but the more controversial inclusion has to be Matthew Stafford. Stafford has all the arm talent in the world but has never managed to win at a high level. Josh Allen has made it further in the playoffs in four seasons than Stafford ever has in 13. That's not a measure of the quality of quarterback, necessarily, but it certainly should play a role. Dak Prescott also has an argument to be on this list. Even Justin Herbert fans could make a solid case.
The purpose of the segment is to inspire discussion but instead hammered home that Brady and Rodgers are the only two constants this year. Everybody else, from Mahomes to Allen to Prescott to Burrow to Herbert, has suffered borderline shocking inconsistency on a week-to-week basis. Given it's been Brady, Rodgers, and Everybody Else for the last, like, five years, it's a little depressing.
But the youthful talent is strong in the NFL. Burrow had an insane game on Sunday. Herbert has had a few of his own this season. Allen just dominated the Patriots in Foxborough, something very few quarterbacks have done this century. Regardless of what you think about the list, it's hard not to get excited about the level we'll see these guys reach on the field over the next few years.
In the meantime, we all yell at Dan Orlovsky.