Dan Orlovsky's NFL Playoff Starting QB Rankings List is Very Controversial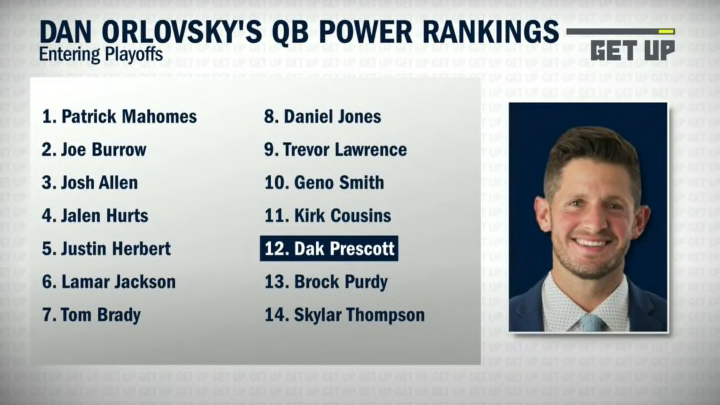 Dan Orlovsky, stirring the pot /
The NFL playoffs are merely two days away. Dan Orlovsky saw this window of opportunity and grasped it by creating a list that was guaranteed to get people mad. Up in arms, if you will. He unveiled a NFL Playoff Starting QB Ranking that he took to all the morning ESPN studio shows and the disagreement began almost immediately, both in the studio and online.
When seeing the list, you understand how it all happened so quickly.
In fairness, there is only one fundamental problem with this list and that's the fact that Lamar Jackson is on it. The Baltimore Ravens have not declared him officially out the way the Miami Dolphins already declared Tua Tagovailoa out, but it's all but assured Jackson is not playing. And if Jackson is not playing then the Ravens are not going to stick around long enough for us to see Jackson justify his placement on the list. Baltimore's inclusion should be Tyler Huntley, who would rank in the Skylar Thompson/Brock Purdy tier.
The rest is just opinion and the opinion that is getting everyone mad already is, of course, Dak Prescott's placement. Putting him that low seems pretty harsh even with the interception bug Prescott apparently caught in the final six weeks of the year. Does anyone really think that Prescott should be behind Daniel Jones in any quarterback ranking? Has he actually been worse than Geno Smith recently? Hell, looking at it, there's an argument to be made that Kirk Cousins should feel the most insulted out of anybody.
If anything, credit must be given to Orlovsky for single-handedly kickstarting a new discussion after three full days of playoff discussion where every possible talking point has been hit.