Dan Orlovsky Tells Pat McAfee His Deal With ESPN Is Up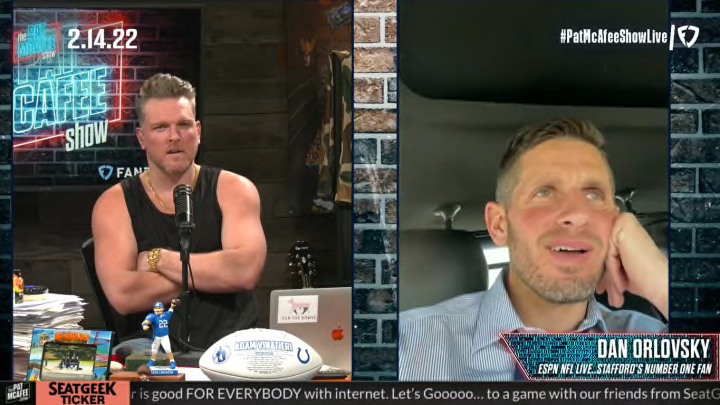 Dan Orlovsky as a guest on "The Pat McAfee Show" /
One of ESPN's best analysts is a free agent. On Monday, Dan Orlovsky revealed to Pat McAfee that his deal with the network is up. That's huge news, as Orlovsky has become an integral part of the four-letter's NFL coverage.
Here's the segment where he reveals his offseason plans and discusses being a free agent.
Orlovsky has been a key piece of NFL Live since 2019, but became a daily contributor in 2020. His work on Get Up, First Take and SportsCenter has been excellent as well, especially as he's gotten more experience. He takes bold stances but backs his takes up with excellent analysis.
The 38-year-old former NFL quarterback joined ESPN in 2018 and has done work as a college football analyst as well.
Orlovsky's high-energy style combined with his ability to break down complex concepts and make them accessible to the public is rare. The work he's done on Touchscreen Tuesdays with Ryan Clark has been outstanding.
The most likely situation here is almost certainly Orlovsky returning to ESPN on a new deal. He's become a valuable part of the network's NFL coverage and it would be a huge blow to lose him.