Latest NFL Leads
Dan Orlovsky: Browns Let Baker Mayfield Down in Loss to Steelers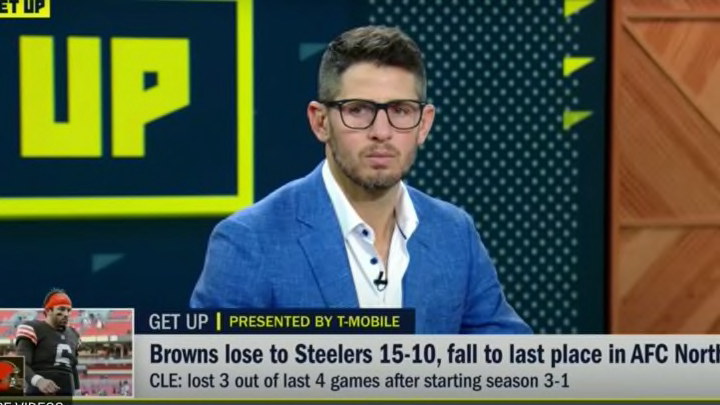 Dan Orlovsky /
The Cleveland Browns had perhaps their worst loss of the 2021 season this past Sunday, falling to the Pittsburgh Steelers by the ugly, ugly score of 15-10. It was awful for any number of reasons. The Browns managed only 10 points, the Steelers didn't have a kicker for half the game, Ben Roethlisberger looked as bad as he had all season, the offense had three drives sputter out in Steelers territory. Take your pick. It was bad.
As is often the case, much of the blame for the failure will be directed at Baker Mayfield. This is especially true since Mayfield sat out last week and Cleveland managed a win in his absence. Mayfield is battling through a torn labrum in his left shoulder, so he should be cut some slack, but the not-really-controversial quarterback controversy will continue to be a subject of debate until the Browns regain their footing and win some games.
Dan Orlovsky got out ahead of all that today on Get Up and argued that it was the Browns that let down Mayfield yesterday and not the other way around.
If you tuned into the end of the game, it is impossible to disagree because of one man (who was mentioned in the above segment): Jarvis Landry. Landry, playing in only his fourth game this season, dropped two fourth-down passes and had a fumble on the Browns' final three possessions. He had an additional back-breaking drop that would have gone for big yards.
Then you consider how little time Mayfield had in the pocket and how utterly ineffectual the run game was for all four quarters, and you see Orlovsky's point. Mayfield's stats were undoubtedly poor, throwing for 225 yards with no touchdowns on 20 completions. As often as players love to preach about "team wins" after a victory, this was very much a team loss. Poor play across the board.
Cleveland is still pretty banged up throughout the roster, but they are last in the AFC North after eight weeks. That's not where the expectations were for this team. Things need to get better quickly, or the Browns are looking at yet another lost season.