Dan Le Batard Gives Powerful Monologue Following Weekend of Protests Around the Country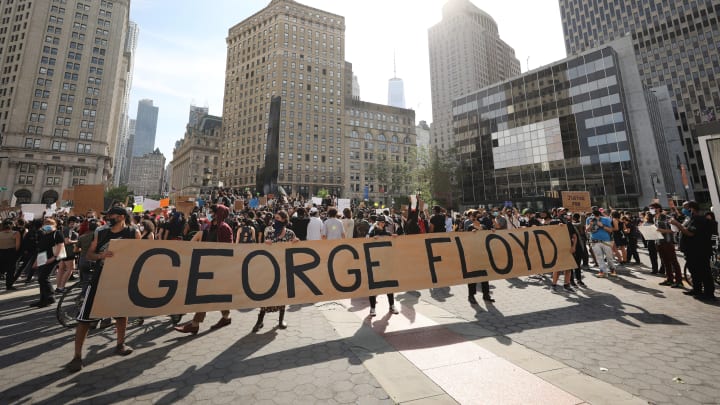 Protests / Spencer Platt/Getty Images
Dan Le Batard has never hesitated to ignore the "stick to sports" moniker that many listeners and his own employers have attempted to press upon him over the years. After a weekend of protests and riots around the United States in the aftermath of the murder of George Floyd, he did so once more.
Le Batard gave an emotional two-minute monologue this morning on fear and heartbreak. Listen:
"You can't believe anything you see and read because you see bricks in the street and you don't know who put them there," said Le Batard, speaking from his knowledge of life under a communist regime in Cuba to the unrest manifesting itself around America over the previous five days. "You don't know whether the people protesting really are protesting, or if they just want to start more violence. That's propaganda. That's Cuba. You can't believe the things that you're watching. You don't know what's real and what's not real. It just... It's heartbreaking. We'll play all sorts of sounds for you today from people who are more eloquent than I am, and more qualified to speak on this than I am. Because I'm just an observer. Latin or not, minority or not, I come from privilege... I hope we can just laugh today, that there can be some medicine somewhere in this, because I'm telling you, Stugotz, I have been alive for 51 years and I have not had as heart-breaking a weekend for something that didn't really directly impact me as I did this weekend. Where my fear kept me in a place, I gotta think it's happening to a lot of people. I gotta think this bone weariness, this heavy feeling you have in your heart, in your stomach, it feels like a disease.
"America and its vibrant economy had to close down because of a disease that attacked the lungs for a few months. Now that disease has been engulfed and swallowed by a disease that has ravaged the heart for centuries. "
We can never have enough people like Dan Le Batard.
There's nothing to add here. Most of the people that make up this country have never felt the fear Le Batard talks about in this segment. As a white man, I certainly have not. For those in that group, the time for talking has passed. It's time to listen and act.