Damien Harris Taken Off Field in an Ambulance After Violent Collision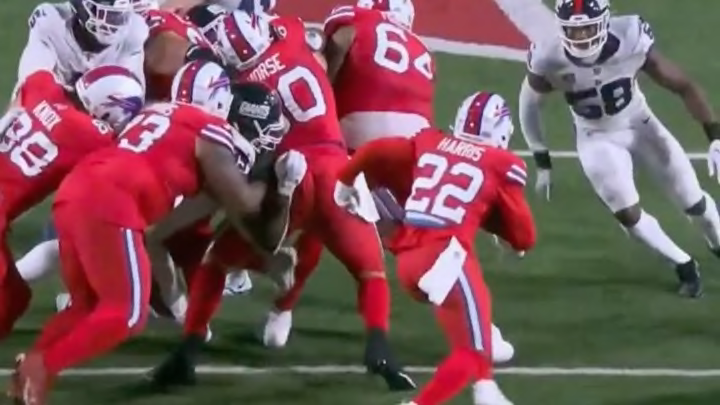 The Buffalo Bills and New York Giants met on Sunday Night Football in Week 6. The game got off to a very slow start with the Giants taking a 6-0 lead in the second quarter. On third-and-1 with just over three minutes remaining in the first half Damien Harris picked up a first down on a hard run right into the line. When the play ended Harris was left on the ground.
Harris remained on the ground as medical professionals checked on him. Eventually an ambulance came out onto the field and Harris, a five year veteran in shis first year with with Buffalo, was taken off on a stretcher. Harris gave a thumbs up as he was being taken away.
Harris looked like he might have hit his helmet on linebacker Bobby Okereke's shoulder. It didn't look particularly bad, but at full speed it was a pretty hard hit. Harris appeared to keep fighting before he was taken down. Hopefully, he's alright.
Harris, 26, spent the first four years of his career with the New England Patriots. He scored 15 rushing touchdowns for the Pats in 2021.
UPDATE: According to Melissa Stark, Harris suffered a neck injury, but has movement in his arms and legs.