Biggest Winners and Losers From Damian Lillard Trade to Bucks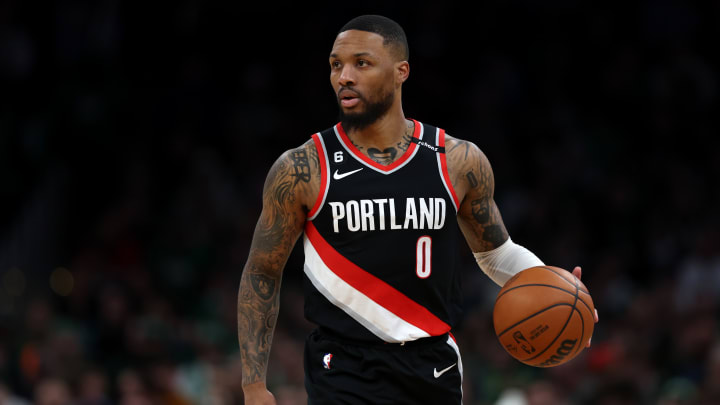 Damian Lillard / Maddie Meyer/GettyImages
On Wednesday, the Milwaukee Bucks shocked the NBA world by trading Jrue Holiday, a first-round pick, two pick swaps, and four additional players for Damian Lillard. It's been a foregone conclusion for months that Lillard would end up a member of the Miami Heat, to the extent his agent was making threats that Lillard wouldn't show up for work if traded anywhere else. That will now be put to the test.
After years of telling everybody he loved the grind and wouldn't run from it, Lillard apparently had enough and wanted to go someplace with a guaranteed shot at a ring. He's not in Miami, but he's definitely part of a championship contender now suiting up alongside Giannis Antetokounmpo and Khris Middleton.
The Lillard deal ultimately wound up a three-team trade, with the Portland Trail Blazers receiving Holiday and Deandre Ayton along with the Bucks' picks and the Phoenix Suns getting in on the action by taking Jusuf Nurkic, Grayson Allen, Keon Johnson, and Nassir Little. It's a groundbreaking trade weeks before training camp. Legacies are on the line. This league!
Let's dig into the winners and losers from the wild transaction.
Winners
Giannis Antetokounmpo
Giannis' media tour this summer during which he publicly put pressure on the Bucks' front office to keep the team in title contention suggested, among many other things, that he didn't totally believe the 2021 championship core was capable of making another run. Well, he got the change he was searching for. Holiday is one of the league's top defenders but Lillard is one of the league's top players, hard stop. Giannis has never played with someone as skilled offensively as Lillard and it could make a huge difference in terms of his efficiency. Who knows how this shakes out in regards to the superstar's future in Wisconsin, but he wanted reinforcements and got them.
Damian Lillard
Maybe Lillard is in shambles right now as he imagines spending the next few years battling the Milwaukee winters instead of basking in the South Beach sun, but it seems like he got everything else he wanted! Lillard got out of Portland and while it was ugly it wasn't nearly as ugly as it could have gotten if things dragged into the regular season. He is now playing with arguably the best player in the world who boasts a championship resume and the sort of two-way dominance Lillard has never seen in a teammate. He is a winner, even if he didn't go to Miami.
Portland Trail Blazers
GM Joe Cronin stuck to his guns and got a significantly better deal than he would've if he adhered to Lillard's demands to only talk with the Heat. Landing Ayton to pair with their young core is a significantly better fit than Tyler Herro ever was and the Bucks' picks could end up quite valuable if this doesn't work out and Giannis leaves. But even if he doesn't and the picks are bad Portland got a 25-year-old center under contract for the next four years with a career double-double average. They can keep Holiday or flip him for more assets at the deadline. The trade they ended up making gave them more value and flexibility than anyone thought possible when this saga began, even if you don't buy Ayton as a long-term centerpiece.
NBA Fans
We can finally stop getting Damian Lillard trade demand updates. Rejoice!
Losers
Miami Heat
Well, well, well. After months of hearing about how the Heat are dealing with the Blazers at their leisure because Lillard only wants to go to Miami, they got the rug yanked out from underneath them. We'd say we hate to see it... but we don't, really. Heat fans have been utterly insufferable about this for nearly two months and it feels damn good for the rest of us to see them speechless. In the basketball world they're now stuck running it back with last year's team minus Gabe Vincent and Max Strus, which is a problem. Maybe they can get into the running for Jrue Holiday!
Jrue Holiday
Speaking of, this poor guy did a big interview with Milwaukee media literally yesterday talking about how he wanted to retire with the Bucks. Sports are cold. His journey is not over yet as there is virtually no chance the Blazers want to hang onto him, so he could end up in a pretty good spot. But there are few spots better than playing alongside one of the league's three best players. At least he got that chip.
Phoenix Suns
The Suns are only kind of losers and ultimately moves like this don't matter a ton when you have Kevin Durant, Devin Booker, and Bradley Beal all on the same roster. But swapping out Ayton for the shambling corpse of Jusuf Nurkic and three average to below-average bench players doesn't seem... great. It's probably the best deal they were going to get for Ayton but that is the problem. They were selling really low on the big man. Everyone knew they didn't like him and treated him like a devalued asset. It feels like they could've gotten more impactful pieces if they let him feast on the empty paint his three co-stars were going to provide.