Powerful Daily Tar Heel Front Page Shows Texts Sent During Active Shooter Lockdown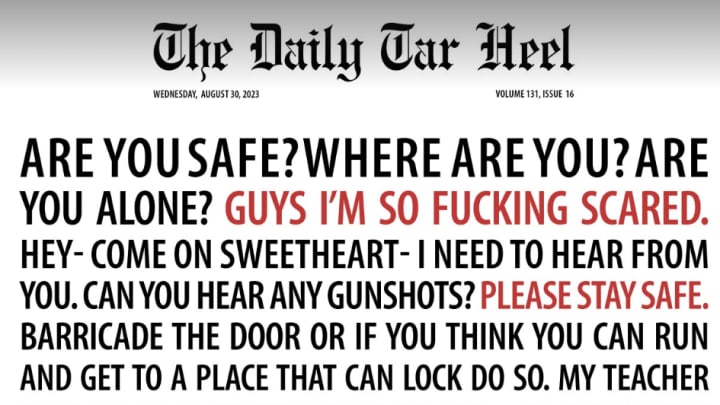 The University of North Carolina became the latest place of learning to be besieged by gun violence after a faculty adviser was killed on-campus. In what's become an all-too-familiar experience, student journalists where thrust into a moment of on-the-job training. And they rose to the moment with a haunting cover that manages to pierce through the rote nature of these common tragedies.
The Daily Tar Heel managing editor Caitlyn Yaede previewed the sheet on Twitter last night and it quickly went viral. It features text culled from messages sent and received by UNC students as fear and uncertainty reigned.
ARE YOU SAFE? WHERE ARE YOU? ARE YOU ALONE? GUYS I'M SO FUCKING SCARED. HEY- COME ON SWEETHEART - I NEED TO HEAR FROM YOU. CAN YOU HEAR ANY GUNSHOTS? PLEASE STAY SAFE. BARRICADE THE DOOR OR IF YOU THINK YOU CAN RUN AND GET TO A PLACE THAT CAN LOCK DO SO. MY TEACHER IS ACTING LIKE NOTHING IS HAPPENING AND I'M LOWKEY FREAKING OUT. I WISH THESE NEVER HAPPENED. STAY CALM AND SAFE - WE LOVE YOU. I AM SO SORRY THIS IS HAPPENING. I LOVE YOU. WHAT THE FUCK IS HAPPENING? MUTIPLE VOICES AND LOUD BANGING. I'M IN CLASS ECERYONE IS LOSING IT PEOPLE ARE LITERALLY SHAKING. STILL GOING ON AND COMING CLOSER, HOPING IT'S COPS. I'M GOING TO FUCKING THROW UP. KINDA WISH I HAD SOMEONE ELSE HERE THOUGH. PLEASE PRAY FOR US. PLEASE STAY WHERE YOU ARE AND KEEP YOUR DOORS LOCKED OR FORTIFIED. LOVE YOU SO MUCH. ARE YOU HOME? SOMEONE IS ALREADY SHOT. IT'S ALSO SCARY HOW UNPREPARED OUR TEACHERS AND STAFF WERE FOR THAT. I'M LISTENING ON THE SCANNER. I HAVEN'T HEARD ANYTHING YET. IT WILL BE OKAY MY LOVE JUST STAY PUT. THERE'S SOMEONE ARMED ON CAMPUS. YOU HAVE A WHOLE COMMUNITY IN THE SAME BOAT WITH YOU. ARE YOU HIDDEN? LONGEST HALF HOUR OF MY LIFE. I'M SO SCARED TO LEAVE. STAY DOWN. DO YOU HEAR SHOOTING? PLEASE LET ME KNOW WHEN YOU ARE SAFE. HEY ARE YOU DOING ALRIGHT? LIKE MENTALLY, THIS SHITS SCARY. I LOVE YOU. I'M STILL SAFE. MY TEXTS WON'T GO THRU. I AM SAFE. ACTIVE SHOOTER ON CAMPUS. I'M IN DEY RN BUT I CAN SEE PEOPLE RUNNING AND HEAR SCREAMING. GET UNDER THE DESK!!!!! OR RUN IF YOU CAN! PUT STUFF IN FRONT OF THE DOOR! PLEASE BE CAREFUL. I'M SCARED. I'M SO SCARED RN. OMG. I'M SO SCARED. HOLY FUCK SOMEONE'S IN MY BUILDING. SAFE? YES YOU? CHECKING IN JUST HOPE Y'ALL ARE SAFE WHEREVER Y'ALL AT. APPARENTLY SOMEONE WAS SHOT AT CAUDILL. POLICE SCANNER SAYS
There's something inherently pyrrhic in praising an editorial choice in the wake of tragedy. But what this cover does is capture the second-level of these nightmares that often gets short shrift. Yes, everyone who sent or received these frantic texts is physically safe this morning. No one is mentally safe and won't be a for a long time, if ever.
It's not defeatist to point out that there's nothing to be said that hasn't been already in these situations. Yet showcasing what was said and transporting readers to those minutes and hours no one would ever want to live or relive has real value.