Dabo Swinney Left Hanging By Clemson QB Cade Klubnik During Embarrassing Loss to Duke
Trouble brewing for Clemson?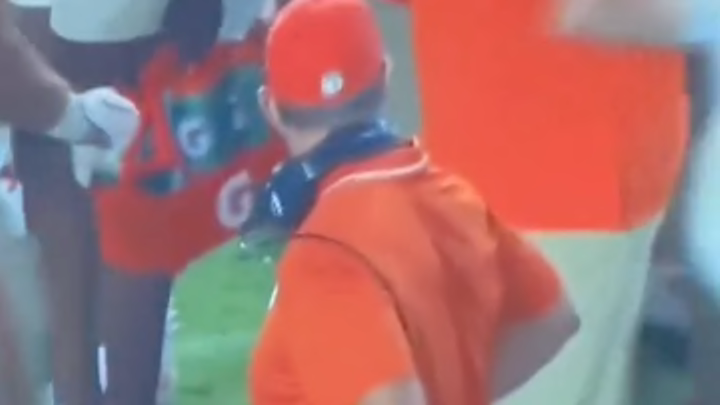 Clemson lost to Duke by 21 points last night, which is something that happens with some regularity in basketball but certainly not in football. At least for a long, long time. The Tigers were looking to get off on the right foot after a surprisingly pedestrian campaign last year and instead invited all types of questions about a crumbling dynasty. There are fewer plays in the college game now with the running clock and yet most teams have been able to muster more than a single scoring drive.
Quarterback Cade Klubnik did not have a game to write home about, completing 27 of 43 passes for 209 yards, the single touchdown and an interception. He also had a bit of an odd exchange with Dabo Swinney while coming off the field after yet another unproductive drive in the third quarter.
Coach went in for a high-five and was left hanging. Which could be explained away but is certainly a bit more noteworthy based on Swinney's reaction to being snubbed.
Probably nothing and we're not trying to blow anything out of proportion. But getting blown out be a middle-of-the-road conference opponent in Week 1 puts extra amplification on stuff. And considering how dominant Florida State looked, we could be looking at a totally different ACC.
Perhaps everything's just fine in Death Valley. If it's not, though, there's going to be a lot of people who enjoy the wheels falling off.