CW Announcer Delivers Epic 'Fboy Island' Ad Read During Virginia-North Carolina Game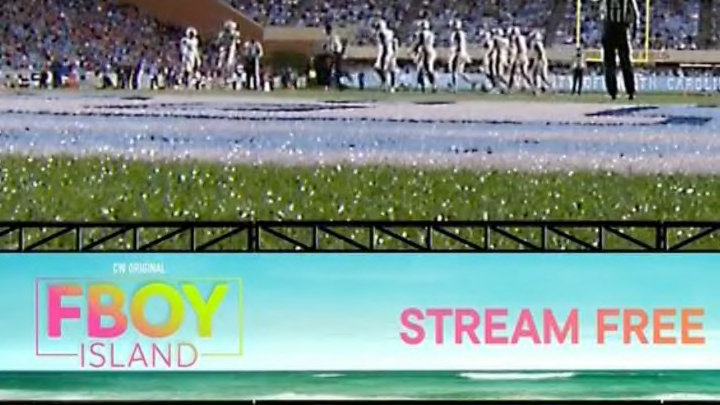 The world is a complicated place and the CW broadcasts college football games now, best to just get used to it. Virginia's shocking upset victory on the road over North Carolina was included in this package and James Bates was tasked with play-by-play responsibilities, which do not end at providing play-by-play commentary. There's products to be moved and ad revenue to be generated so there are a good amount of ad reads. Typically viewers tend to tune these out but in this specific case, subject and author combined for magic.
Here's Bates selling the hell out of the current season of Fboy Island.
"Everyone at home, are you watching Fboy Island? Well, the answer should be F, yeah. Watch an all-new season of Fboy Island only on the CW Mondays at 8/7 Central and stream free the next day on the CW app. Season three has started, by the way. The finale of season two a couple weeks ago was incredible and it is about two or three shows in right now — they're already kicking Fboys out of there left and right. Nice guys sticking around, they kicked a couple Fboys off so make sure you're checking it out on the CW app."
It's not Pat Summerall pausing for a hilarious amount of time for the comma in Murder, She Wrote but there's no way Summerall and Madden could have handled a spot for Fboy Island with the same flawless ease.
Bates has retained the index card for the spot and, like a young Indiana Jones, may make sure it ends up in some sort of museum.
The sports rights game is a bit droll and boring but every now and again the free-for-all creates moments like this that are simply beautiful.