Cubs-Padres Umpire Wanders into Basepath And Collides With Jake Cronenworth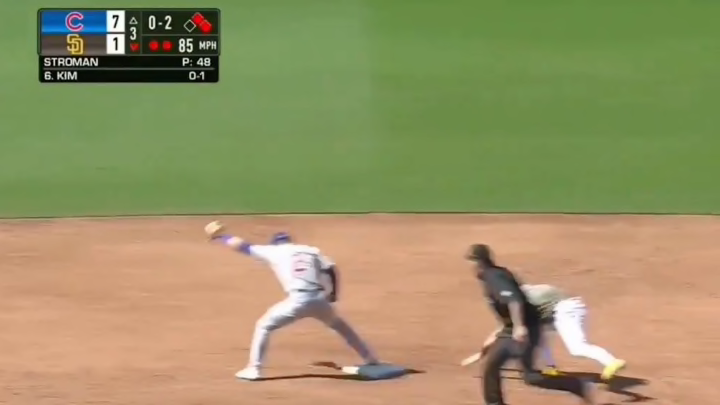 Cubs-Padres /
On Sunday afternoon an umpire once again inserted himself into the middle of a Major League Baseball game. This time it was quite literal.
Let's set the scene. The San Diego Padres found themselves in a deep hole early against the Cubs, down 7-1 in the third inning. They were starting to rally, though, and had men on first and second with two outs in the top of the frame. Kim Ha-seong hit a grounder to short. That's when the umpire stepped in.
The ump wandered off the infield grass and directly into the path of Jake Cronenworth, hustling from first to make the play close. He ran smack into the back of the umpire and replay shows that he most likely would've been safe without the interference.
Umpires are human and make mistakes and all that but this was about as routine as it gets for everybody involved. An infield grounder with men on base. Everyone knew what was going to happen next. Yet the umpire seems to have lacked that awareness and walked right into where Cronenworth would be running. Hell, it even looks like he would have been directly in the line of the shortstop's throwing lane if the ball went to first instead.
Remarkable stuff all-around from blue.