Cubs Middle Reliever Ryan Tepera Got an MVP Vote Because a Writer Clicked the Wrong Button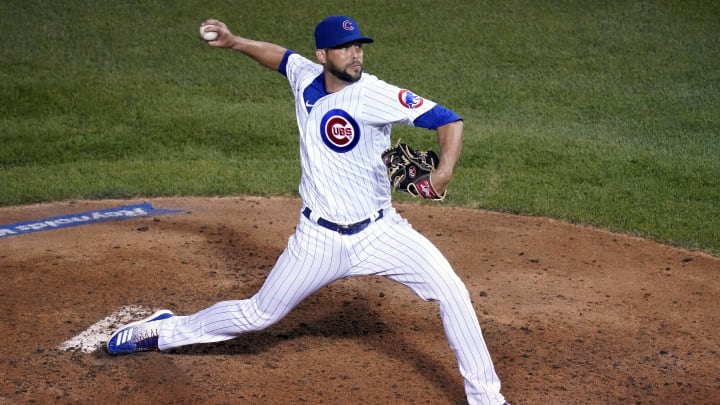 Nuccio DiNuzzo/Getty Images
Though the Major League Baseball season was only 60 games this year, we should take nothing away from the players who performed brilliantly. The raw emotion from Jose Abreu and Freddie Freeman when they were announced as their respective league MVPs was very real and authentic. So even if you put an asterisk or footnote or whatever you want in the record books, it's still legit to them, dammit.
Both selections were warranted. But it wouldn't be 2020 without some voting controversy, or at the very least, some voting irregularities.
When the tabulations came in, everyone essentially had the same question. How, in the name of all things holy, did nondescript Chicago Cubs reliever Ryan Tepera get a 10th-place nod? Sure, he did mediocre work in his 21 appearances, posting a 3.92 ERA and 1.40 WHIP while losing his only decision. But to steal a phrase from Pam Beesly, there are just so many other, better baseball players out there.
What did St. Louis Post-Dispatch writer Rick Hummel see in this guy that caused him to elevate him over Bryce Harper, Jacob deGrom and Nolan Arenado?
Turns out the answer is simple operator error.
""I meant to hit Trea Turner and thought I had," longtime St. Louis Post-Dispatch writer Rick Hummel said. Fondly called "The Commish" by his peers, Hummel in 2006 won the Baseball Writers' Association of America's award for excellence that is presented during the Hall of Fame's induction ceremonies. Hummel said he intended to click on Turner's name on a drop-down list, but figures he accidentally clicked Tepera. Turner, the Washington shortstop, finished all alone in seventh place. "I should have double-checked it," Hummel said."
Oops.
Now, I'm not sure if this will ultimately help or hurt my case to eventually get a ballot for this important stuff, yet I'll offer the suggestion anyway. Considering the median technological savviness of those casting these votes, how about we figure out a Clippy-like mascot that ensures everyone checks their work?
Technology has done so much for society but it's also made it easier to accidentally claim Rafael Belliard or Mike Myers or any other guy from your league's waiver wire was one of the most valuable players in the league.