Cubs Set to Let Kyle Schwarber Walk After Refusing to Trade Him For Years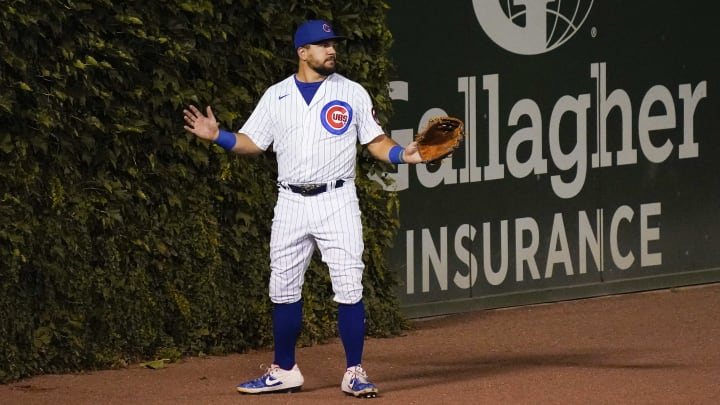 Kyle Schwarber, Minnesota Twins v Chicago Cubs / Nuccio DiNuzzo/Getty Images
The Chicago Cubs are reportedly set to non-tender slugger Kyle Schwarber, allowing him to walk in free agency after hyping him as the next big thing for years. The Cubs made Schwarber untouchable in trades, but have now decided he's not worth paying. It's a crazy shift for the franchise.
The Cubs selected Schwarber with the fourth pick in the 2014 MLB Draft after a prolific career at Indiana. Schwarber was a slugging catcher in college but clearly wasn't good enough behind the plate to stick there in the big leagues. He debuted as a designated hitter in 2015, while playing some catcher and outfield in 69 games. He hit .249 as a rookie with 16 home runs and 43 RBIs and an OPS of .842. He hit some tape measure home runs and drew comparisons to Babe Ruth for his power and physique.
As the Cubs geared up for a World Series run in 2016, they had to do so without Schwarber who tore the ACL and LCL in his left knee. He missed all but two games, but managed to return for the World Series, where he hit .412 with two RBIs and a .500 on-base percentage as Chicago won its first title since 1908. His legend in Chicago grew as a result and Theo Epstein refused to include him in any trades.
In 2016, the Cubs could have landed Andrew Miller from the Yankees if they had given up Schwarber. Instead they held on to him and put together a package for Aroldis Chapman that included Gleyber Torres. They would have had Miller for three years, while Chapman became a free agent after the World Series and went straight back to New York. The franchise probably want that one back.
Schwarber returned full-time in 2017 but struggled. In 129 games, he hit .211 with a .315 on-base percentage and 150 strikeouts against 59 walks. The power was still there as he launched 30 home runs, which helped creep his OPS up to .782, but his fWAR was a weak 1.7. In 2018, he was a bit better but still struggled. He hit .238 with an OPS of .823 and 26 home runs. He struck out 140 times with 78 walks in 137 games, but his fWAR bumped up to 3.2.
Schwarber had recouped some of his hype that offseason but it was clear he wasn't a full-time outfielder. His best fit was likely as first baseman or a DH. Unfortunately for the Cubs, Anthony Rizzo was locked in at first and the National League didn't have the DH yet. Still, Epstein refused to trade his prized slugger to a team that could actually deploy him properly.
In 2019, Schwarber finally played close to a full season. In 155 games he got his average up to .250 and hit 38 home runs with 92 RBIs. His OPS jumped to .871, but his strikeout issues persisted (150), his fWAR dipped to 2.6, and his defensive war was abysmal (-7.1). He's simply not an outfielder and moving him out there was never going to work.
Schwarber struggled again in the pandemic-shortened 2020 season, hitting .188 with 11 home runs and 30 RBIs. His fWAR fell to 0.4 and his OPS was an abysmal .701. His value is currently lower than it has ever been.
It was evident early on that unless the NL brought in the designated hitter, Schwarber was a man without a position. Maybe he could learn to play first base, but the Cubs didn't have a need there. Epstein and his front office should have taken advantage of Schwarber's productive 2018, or the hype around him back in 2016, and scored a big return for him.
Now Chicago is poised to lose him without getting anything in return. The Cubs mismanaged Schwarber's career and now have nothing to show for it.