The Cubs May Be Undergoing a Major Overhaul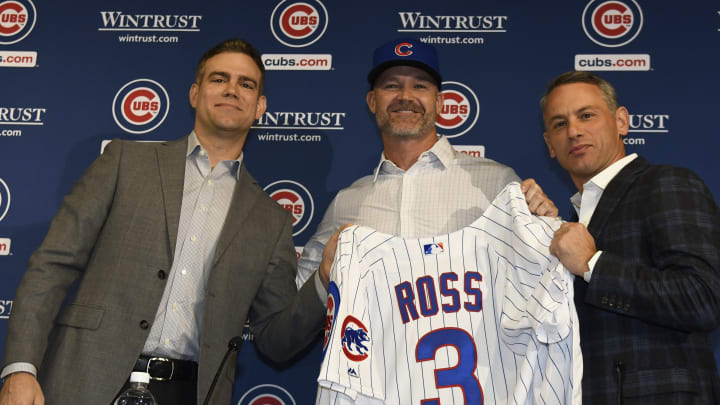 Theo Epstein and David Ross / David Banks/Getty Images
When the Chicago Cubs ended their historic World Series drought and lifted the Commissioner's Trophy in 2016, everyone in Major League Baseball assumed it was just the beginning. Their championship run was driven by young talent like Kris Bryant, Kyle Schwarber, Javier Baez, and Willson Contreras. Chicago fans certainly didn't want to get ahead of themselves, but the idea of a potential dynasty was certainly tossed around quite a bit after that fateful October run.
Fast forward three years, and nothing has gone according to plan. The Cubs have failed to win 100 games in the years since and won only 84 games in 2019 with the same core. They made it to the NLCS during their championship defense, but lost decisively to the Los Angeles Dodgers, 4-1. They didn't make it past the Colorado Rockies in the Wild Card round in 2018 before missing the playoffs entirely in 2019 despite a weak division that was there for the taking late in September.
All that led to the team's parting of ways with Joe Maddon, the manager who brought them their first World Series in over 100 years, at the conclusion of this past season. That might not be the only major change we see before the 2020 season kicks off; Ken Rosenthal of The Athletic reported the front office has made "every player on their roster available" this offseason. It was already known they were looking to ship Bryant off to different pastures, but this is a more drastic change of tune from Theo Epstein & Co. But it may not be as easy as it seems. From Rosenthal:
"The Cubs, by making every player on their roster available, clearly want to create a different mix for new manager David Ross. They need young starting pitching (every member of their projected rotation is over 30) and also would benefit from the addition of a young center fielder such as the Nationals' Víctor Robles, 22, or a free agent such as Nicholas Castellanos, who turns 28 on March 4. At the moment, such moves amount to wishful thinking."

- Ken Rosenthal, The Athletic
The Cubs are in a weird spot. Their roster has its holes, but their core should be good enough to succeed in spite of those weaknesses. Last year proved that wasn't necessarily the case. As Rosenthal pointed out, they won't be able to trade Bryant until his grievance is settled and a decision is made on whether he'll be under team control through 2020 or 2021 (a rather important difference for a prospective trade partner). Schwarber and Baez both fell back to Earth after career years at the plate in 2018. Contreras had an All-Star year, but seems to have hit his ceiling as a sub-.280 hitter without much power.
Blowing it up in baseball isn't the same as in other sports. It's a multi-year project that can't be accelerated, even if they land a generational prospect in the draft or via trade. Chicago isn't eager to embark on that journey, if only because it seems unlikely Epstein would be around to see it all come to fruition. They also are in the midst of a spat with local TV and are launching their own network to televise games, a project which requires a decent on-field product, at the very least, to soothe over fans who are unhappy with the change.
The good feelings that ending a 108-year drought have dissipated over the last three years. The players thought to have the makings of a dynastic core haven't proved to be up to task, and aren't even good enough to give the franchise a reboot in a blockbuster trade. Their path forward is unclear, but changes are coming. Of that, we can be certain.