Craig Carton Calls Eagles 'Pathetic' For Signing Julio Jones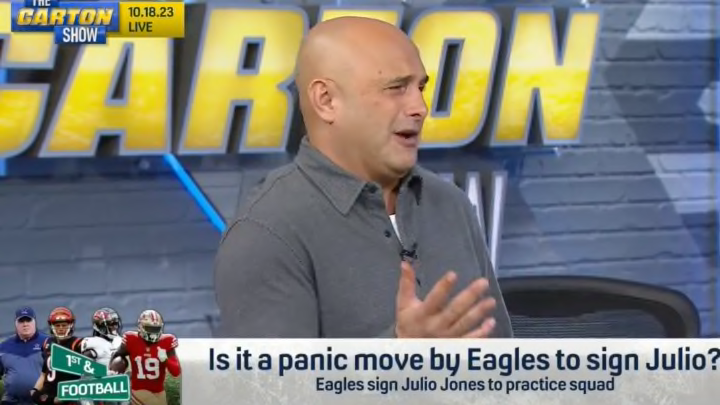 Carton Show /
The Philadelphia Eagles signed Julio Jones to their practice squad on Tuesday. A team signing a free agent wide receiver to their practice squad is rarely national news but Jones is a big name and so it's a talking point today. It came up on The Carton Show this morning, where Craig Carton denounced the move as "pathetic" because it's clearly a panic response to losing to the New York Jets.
The thing with Carton on his Fox Sports show is that sometimes it feels like he's aware he's playing a caricature of a shock jockey with some of these takes. The grin that snuck onto his face as he hit the "P" in "Pathetic" suggests he's as aware as you are that what he's saying is absurd. But then he gathers himself and gives a two-minute monologue that actually comes across as genuine and an attempt to be convincing.
Anyway, it would be hilarious if the Eagles looked at themselves after dropping their first game of the season and decided the solution was another pass-catcher. The issues at hand, however major or minor they might be, have nothing to do with the receiving group. The combination of AJ Brown, DeVonta Smith, Dallas Goedert, and D'Andre Swift out of the backfield matches up with any rival grouping across the league.
The conclusion to come away from losing to the Jets is that Jalen Hurts shouldn't throw an interception after the two-minute warning in a one-score game. I'd call that a solid gameplan moving forward. Otherwise the Eagles are fine, Jones or no Jones.