Craig Carton: 49ers Might Be Most Dysfunctional Quarterback Franchise in NFL History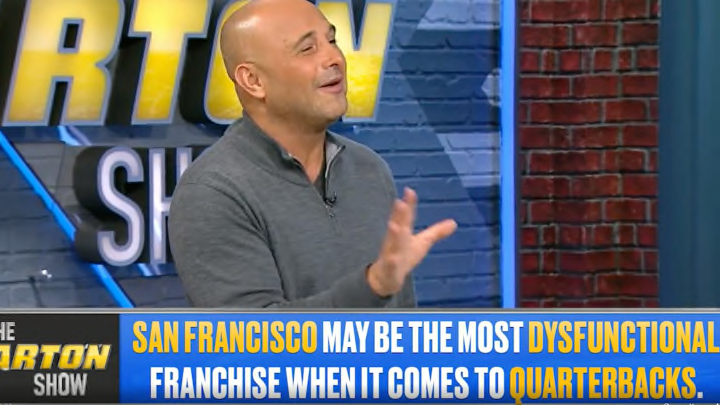 Craig Carton /
Craig Carton is firing off takes bright and early for Fox Sports on the Craig Carton Show on a daily basis nowadays. On Wednesday, he took aim at the San Francisco 49ers. Carton said, after the Niners moved on from Jimmy Garoppolo in favor of Trey Lance, he believes they could be the most dysfunctional franchise in football history when it comes to quarterbacks.
This was met with great shock from his team in the studio, and to his credit Carton admitted before digging into the specifics that it was a wild take. Especially coming from a fan of the New York Jets, as everyone in the studio noted. But still he made the argument anyway.
It is, if anything, a unique angle on the recent history of San Francisco's quarterback management. Whether or not you think it's "dysfunctional" depends on your standard of good enough when it comes to quarterbacks. Alex Smith, Colin Kaepernick, and Jimmy G were all good QBs. But they're more like Joe Flacco or old Peyton Manning than Patrick Mahomes or Tom Brady. They could aid winning efforts but aren't good enough to carry the team to victory, which is why San Francisco moved on from all three in search of the Next Big Thing (Kaepernick's situation had some other factors, obviously, but the point stands).
The Niners appear to be looking for a method of sustained success rather than going all-in on good teams with above-average quarterbacks. Sustained success in the NFL is really only possible if you have a top-10 quarterback every year. San Francisco clearly felt Smith, Kaep, and Garoppolo were never going to get there. So they decided to take another swing at the plate.
Frankly, the fact that they managed to be successful with all three very different quarterbacks is a sign that the organization as a whole is anything but dysfunctional.