Cowboys Bailed Out by Terrible Roughing the Passer Call on Jets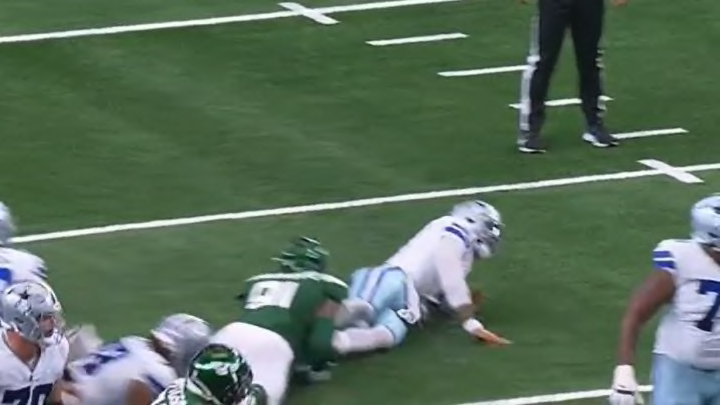 We're in Week 2 of the 2023 NFL season and we finally have our first egregious roughing the passer call. We're shocked it took this long. The call bailed the Dallas Cowboys out and led to a touchdown that gave them an 18-7 lead over the New York Jets.
Dak Prescott and his offense faced third-and-7 on the Jets' 11-yard line. He dropped back to pass and fired an incompletion in the direction of CeeDee Lamb. Unfortunately for New York, John Franklin-Myers was whistled for roughing the passer after he hit Prescott a little late and a little low. But the call definitely fell into the, "what was he supposed to do?" category. It was an unavoidable hit.
Watch:
And here's another view:
You can see at the last second, Cowboys tackle Terence Steele yanks his Franklin-Myers down by the arm, which leads to the low-ish hit. There's legitimately nothing he could have done to avoid what happened.
That call gave the Cowboys new life and they scored a touchdown four plays later.
This is why roughing the passer calls should be reviewable by the booth. Especially when it's obvious there has been an awful call.