Cowboys Bailed Out by Extremely Weak Illegal Contact Penalty vs. Rams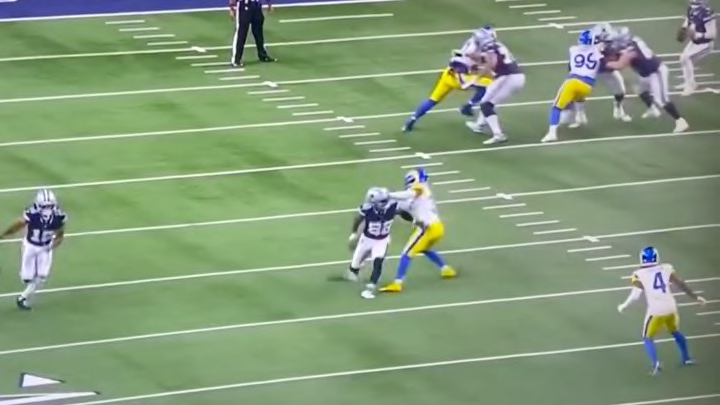 Los Angeles Rams vs. Dallas Cowboys /
The Dallas Cowboys got the ball first against the Los Angeles Rams on Sunday afternoon and things quickly went sideways. Dak Prescott was sacked on the first play of the drive, losing five yards, and second down yielded merely a four-yard rush from Tony Pollard. Facing third-and-11, Prescott dropped back to pass again and was sacked again. It seemed the Cowboys' struggle to start fast would arise once more.
But the referees couldn't stand for that and bailed the Cowboys out with perhaps the weakest illegal contact penalty of all time on the second Prescott sack. Below you'll observe Rams DB Quentin Lake getting a hand on CeeDee Lamb and getting hit with a flag.
By the letter of the law this is correct. Lake is not supposed to touch Lamb once he gets past five yards. But it obviously didn't have really any affect on Lamb's route. Usually when illegal contact gets called it's because a defender tugged a jersey or hugged an opposing player as they were trying to make their break. Not... whatever happened here.
Not a "bad" call, per se, but a very weak one that got the Cowboys out of a jam. They would then march down the field and score an opening drive TD. A pretty impactful call.