Conor McGregor Will Fight Again Before You Can Remember He Even Retired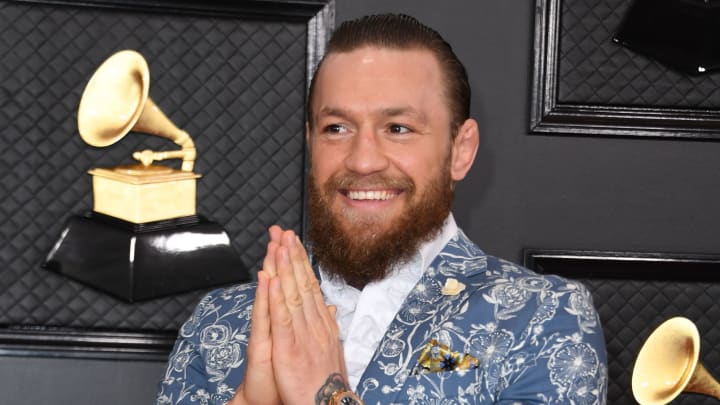 Conor McGregor / VALERIE MACON/Getty Images
Cnor McGregor retired from fighting following UFC 250, an event he was watching from home. This is the third time that McGregor has retired in the last four years. It's been less than two weeks since he was tweeting about fighting Anderson Silva. It's safe to say this isn't one of those Forever Retirements.
Premature retire-ation has always been a popular move in mixed martial arts. Henry Cejudo just retired less than a week ago, in the octagon, after a successful title defense. It is most likely a negotiation ploy. Conor already gets all the money, so this one is probably just a cry for attention.
It has worked before. McGregor's best retirement was his first. A month and a half after losing for the first time in the UFC, he said, "Thanks for the cheese." He was back in the octagon four months later and fought Floyd Mayweather in 2017. It seems that saying you're no longer relevant is an excellent way to stay relevant.
After losing to Khabib Nurmagomedov in October 2018, with nothing else going on, McGregor retired again. This one actually lasted a few months, but he was back in there for his latest fight against Donald Cerrone at UFC 246 in January.
Nearly four months after the Cerrone fight, nothing is again happening. About a month ago he was in an Instagram comments section telling Nate Diaz to "shut your eyelid and sign the contract." Earlier this week Dana White said he wanted McGregor to return to the lightweight division where interim champion Justin Gaethje fought last month. After hearing McGregor's retirement announcement, Gaethje went on Twitter and... called him elderly? McGregor is exactly four months older than Gaethje.
Also, McGregor was just tweeting about a superfight with Anderson Silva. There is no reason to believe him about this either. Eventually, the right fight and the right money will come along. Who knows what kind of cash the UFC will try to throw around once interest in Fight Island starts to go away and other sports start to come back. He'll be back before you can even remember he retired.