Oregon Releases Footage of Shilo Sanders' Pregame: 'I'll Beat the S--t Out of Every One of Y'all and Your Coach'
Does that O mean anything to you?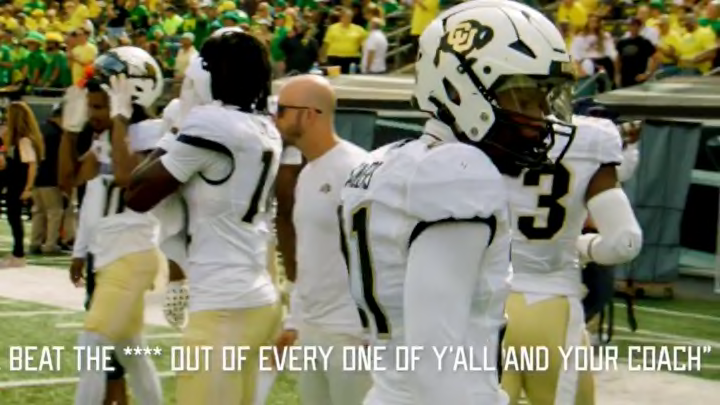 It felt a bit like living in the Bizarro World watching Oregon coach Dan Lanning take crap for motivating his Ducks to crush media darling Colorado by preaching a message of chasing victories over clicks. Listening to Deion Sanders say that opposing programs want to beat him, not his team, was brain-breaking after watching that team get walloped up and down the field. There were significantly less segments and bold claims about the 3-1 Buffaloes on Monday, with the responsible ones pointing out that building up both lines will take some time and the shameless trying to create some sort of conspiracy where nefarious forces are teaming up to pick on poor ol' Sanders and a program that simply minds its own business.
Lanning, confronted by the latest musings by caricature stand-in Skip Bayless, provided a thoughtful two-minute answer about what happened leading up to last Saturday, what didn't happen, and how he feels about Colorado. It's pretty refreshing to hear someone right at the center of the whole circus provide some nuance and to give Sanders his flowers after giving him an L. It's sort of a time-capsule for future us to look back on to understand where things stood four games into the experiment and shouldn't, in a sane world, make anyone mad.
More salaciously, Oregon also released a cinematic recap of the 42-6 drubbing and it is not kind to the opposing Colorado players, who talked a tremendous amount of shit before the game they failed to back up. Chief among them is Shilo Sanders, the Colorado coach's son, who vowed to kick Lanning's ass and anyone else's ass who stood in his way.
Look, on one hand, this is the most basic thing in the world. Across sports, everyone says stuff before the heat of battle and the more incendiary and provocative, then the more pressure there is to back it up. A college football team getting hyped then housed happens all the time and it's part of the thing that makes the sport great. Coach Prime wants the target on his back and his team's back. Sides that matter can either be heroes and villains and what's special about this situation is that Colorado appears capable of being the rarest of rare — a program that can be both.
The further the conversation drifts from the clear facts (a side came in with its chest out and got it caved in), the less fun the discourse becomes. A simple first step would be for us all to listen to Lanning's words and accept that there are no victims from what happened Saturday.