College Football Player Steps on Football With Both Feet, Hilarity and Embarrassment Ensue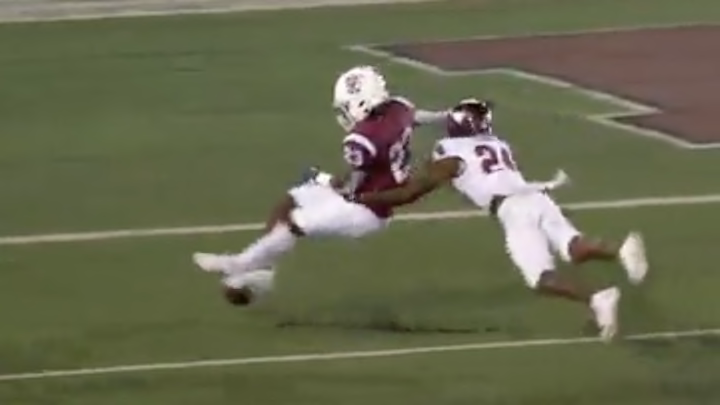 The North Carolina Central Eagles beat the South Carolina State Bulldogs, 62-28, on Thursday night. The MEAC showdown was broadcast on ESPNU so that's how we know about one of the weirder touchdowns you'll ever see in college football. Or just football in general.
NCCU took a 55-21 lead with 15-seconds left in the third quarter when quarterback Davius Richard hit Chauncey Spikes for a 16-yard touchdown pass. On the ensuing kickoff the ball sailed over the head of running back Tykese Walker who wrongly assumed it would bounce into the end zone. Instead it hit around the five and pretty much stopped. Walker ran over to do something and ended up stepping on the ball with both feet and slipping on it like a banana peel.
The ball would bounce into the end zone where it was recovered by Romeo Stancil for an Eagles touchdown. Honestly, have you ever seen anything like this? It looked like a Dude Perfect stunt that hadn't quite been thought out all the way. Like someone just suggested jump on a football and see what happens? Well, now we know.
Will we ever see anything like this again in an organized, televised game? Never say never. This is the kind of blooper that Leon Lett could only have dreamed of back in the 90's.