Colin Cowherd Leaving ESPN, What's Next?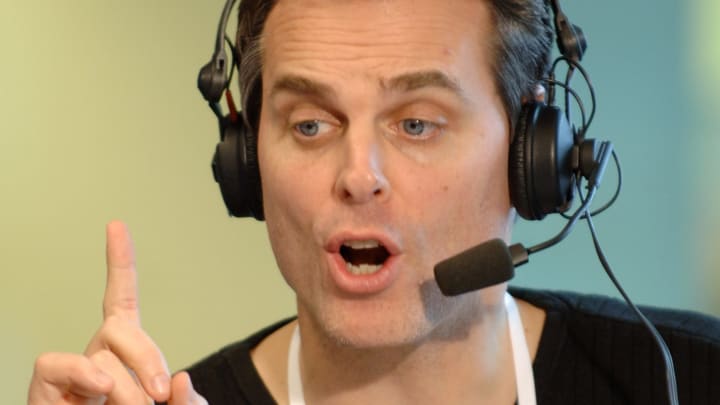 Al Messerschmidt/Getty Images
Colin Cowherd, a prominent national voice on ESPN radio since 2003, is leaving the network, multiple industry sources tell The Big Lead. While no destination is finalized, talks are progressing towards a deal with Fox Sports. The move away from the Mothership does not come as much of a surprise for anyone who follows these things closely, or has been listening to Cowherd's show for the past few months.
But, the timing will leave a gaping hole in ESPN Radio's weekday lineup and has broader implications about where some things are going both in Bristol — few will forget the great talent exodus of 2015 at ESPN, which has seen the network lose other outspoken voices in Bill Simmons and Keith Olbermann — and in general sports media. The difference here was that ESPN did make an aggressive bid to keep Cowherd, but was upstaged by Fox, who are clearly looking to make a big splash.
"We've enjoyed a mutually beneficial run with Colin for over a decade," ESPN president John Skipper told TBL in a statement. "He came to national prominence on ESPN with his unique perspective on sports and society. Endings also bring new beginnings, for ESPN and Colin, and we thank him and wish him the best."
So why leave ESPN now?
Near the top of the list would&nbsp;be a reunion with<span>&nbsp;</span><a href="https://thebiglead.com/2015/04/22/inside-blitz-big-changes-coming-at-fox-sports-1-and-thats-a-good-thing/" target="_blank" style="box-sizing: inherit; margin: 0px; padding: 0px; border: 0px; outline: 0px; font-weight: 600; font-style: inherit; font-family: inherit; font-size: 18px; vertical-align: baseline; text-decoration: none; color: rgb(21, 122, 175);">Jamie Horowitz, the new President of Fox Sports</a>, who produced SportsNation with&nbsp;Cowherd&nbsp;and Michelle Beadle, as well as Cowherd's Sunday morning football show a couple years ago. Perhaps Fox has a multi-faceted plan that may include a Cowherd-driven Sunday morning football pregame show on Fox that airs before the Sunday NFL pregame show?
It's not currently known what Cowherd would do for FS1. One potential idea is to put him at 6pm and attempt to better compete with SportsCenter with a talk-driven show, which Horowitz previously had a lot of success (depending on how you define the word) with at ESPN2.
At ESPN, Cowherd wanted to be simulcast on a network with better distribution than ESPNU, but there wasn't any way he was going to supplant SportsCenter (ESPN) or First Take (ESPN2). As far as simulcasting goes, if Cowherd's radio show lands at FS1 – industry sources say Sirius and DirecTV a la Rich Eisen are in play – will he have the same issues as Mike Francesa, who often gripes about being preempted?
Cowherd recently expressed some of his thoughts about the future of radio on the About Sports Radio podcast with Zach McCrite, which could give a hint as to where his show will land, and how it could change his pay structure: "In the next 5-10 years, I don't even think they'll have radios in cars. I think podcast and digital and Sirius is the future. I think terrestrial — AM especially — is done in five years."
On that podcast, Cowherd estimated that his show makes $18-20 million a year on radio alone, but speculated within two or three years that his program would go from radio show simulcast on television to vice versa.
Returning to the point about cars, Apple and Google are introducing products that will essentially turn dashboards into tablets. The New York Times wrote about this in February:
"After years of being treated as an interesting side business, autos have become the latest obsession for Silicon Valley, with Apple assigning about 200 people to work on electric vehicle technology and Google saying it envisions the public using driverless cars within five years. But nowhere is that obsession playing out more immediately than in the battle to develop the next generation of cars' dashboard systems.
In the coming weeks and months, dealerships around the country will begin selling vehicles capable of running Android Auto, Apple CarPlay, or both. The systems go far beyond currently available Bluetooth pairing for playing music or making a hands-free call, and allow for Google's or Apple's operating system to essentially take over the center screen and certain buttons within the car."
Radio shows will be streaming live through these devices, and they'll also be podcasted. It'll probably take a bit longer than the five years Cowherd has predicted for a total wipeout — as over two million lingering AOL dial-up subscribers illustrate, old habits persist at least on the margins — but he's right that it's coming eventually. While ESPN is certainly invested in its terrestrial radio affiliates, it stands to reason that as smart dashboards become more common they'll seek out and be courted for partnerships in distribution through them.
Although podcasts are gaining market share at a rapid pace, there aren't many creators who are making big money on them quite yet. MailChimp told the Wall Street Journal that they paid $25-40 CPM (cost per thousand listeners) for Serial; you'd have to figure the podcast's second season will command more than that and be quite lucrative. Adam Carolla's podcast has had record listenership, and is said to have made $14 million in profits since it launched in 2009. Marc Maron also must be making some good money.
None of this has yet approached what Cowherd's program now grosses on radio.
Though ads have been seeping in more and more in recent months, ESPN hasn't materially monetized its podcasts yet — recall Simmons ripping them for that this past March. Incentives-wise, even the biggest advertising figures thus far in the podcast industry pale in comparison to Monday Night Football, and as we've already noted, terrestrial radio. But, they're aware of what's coming. For them, it would be a slippery slope to add revenue sharing to talent contracts. And, the argument that their massive distribution is an asset that makes even the most popular individual replaceable has been the company line during this stretch of intense cost-cutting.
[Related: Mike Francesa: Radio Has Done a Terrible Job Monetizing Digital Platforms]
For Cowherd, it's undeniable that his reach would dwindle in a move from ESPN to any radio outlet, whether it's Direct TV, Sirius, or Premiere Networks (which distributes content to Fox). But, perhaps he's calculated that he'd rather have a bigger piece of a smaller pie, with massive upside if podcasts are indeed better-monetized in the near future. The less-is-more move worked for Glenn Beck when he left Fox News, though he also had a website and streaming digital channel in addition to his radio show. And, all on-air radio talent has taken note of the way Howard Stern has handled business, opting for the biggest payday and unconditional freedom of speech on satellite radio rather than the biggest audience.
Whereas ESPN's splits with Simmons and Keith Olbermann had something to do with apparent differences with higher-ups about acceptable editorialization — particularly with regard to the NFL and Commissioner Roger Goodell — as well as money, it doesn't seem like this was a freedom of speech issue for Cowherd. He remarked on the aforementioned About Sports Radio podcast that his bosses rarely interjected in the show. Nevertheless, there's a roving, invisible line at ESPN that everybody knows is less onerous on other networks.
So, there's some mutual familiarity with Horowitz, whether Cowherd ultimately would get his own television show, or would be a contributor to several programs on Fox and FS1. For ESPN, who did make a push to keep the host but was not ultimately willing to meet Cowherd's requisite financial package, there are a lot of questions about its radio lineup both imminently and a couple years down the road.
Correction: A previous version of this piece incorrectly stated that Adam Carolla's podcast has 120 million monthly downloads.