Colin Cowherd: Kyrie Irving is Like Cryptocurrency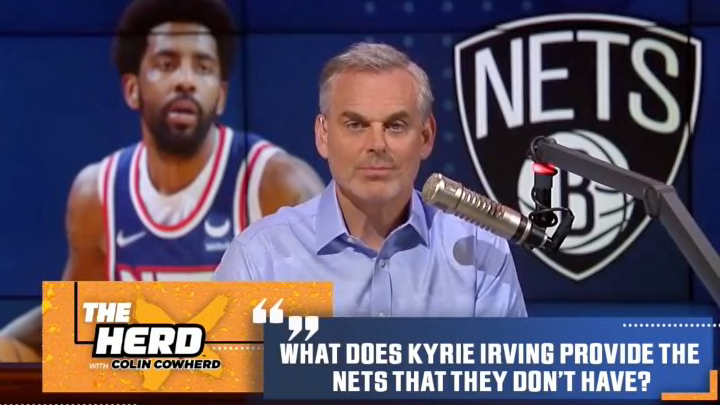 Colin Cowherd is at it again /
Sports media's king of metaphors pulled another wild one out of his bag on Wednesday as Colin Cowherd dug in to address the Kyrie Irving situation. For those not in the know, Irving and the Brooklyn Nets have begun battle in the court of public opinion over his impending contract negotiations. Irving has a player option for next season but wants a long-term extension and the financial security that comes along with that. The Nets are understandably reluctant to pay the man north of $200 million with no questions asked given how many games he's missed while in a Nets uniform.
It will be the story of the NBA offseason considering this year's free agency class is pretty weak and the draft is already upon us. Cowherd talked about how he views Kyrie like he views cryptocurrency-- there's little data to suggest a good investment is at hand, there's a lot of speculation, and it is unclear what the payoff is.
Outstanding. And much like cryptocurrency, Irving's stock is in the basement after he barely played half a season of basketball due to a personal choice and then disappeared during the Nets' first-round series against the Boston Celtics.
The obvious difference here is that, unlike cryptocurrency, Irving has a body of work that appeals to everybody. As much as we all like to talk about how Irving is a problem waiting to happen for any franchise, there are few teams in the league who'd actually pass on him if he became available. Such is the power of the kind of talent Irving displays when he makes it onto the court.
We'll see if the Nets agree with Cowherd.