Colin Cowherd: Giannis is Better Than Kevin Durant Has Ever Been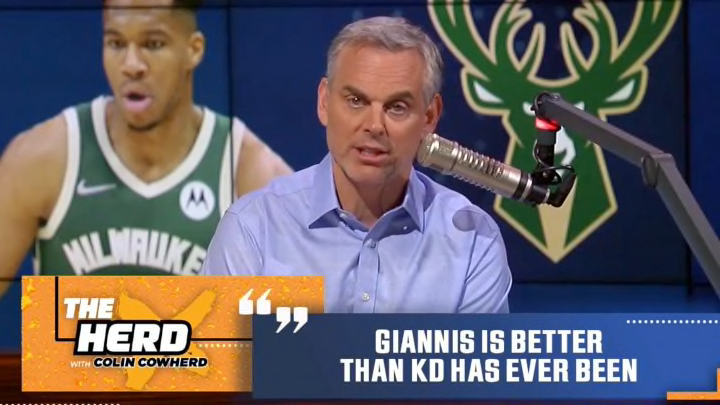 Colin Cowherd /
Now that the Milwaukee Bucks have taken care of business in the first round of the NBA playoffs, Giannis Antetokounmpo is tasked with a challenge Kevin Durant could not overcome: taking down the Boston Celtics. Boston swept Durant's Brooklyn Nets and appeared to rattle the superstar in a way very few have in the last decade of basketball. Durant showed out in Game 4 and did everything he could to prevent elimination to the tune of 39 points, nine assists and seven rebounds, but it was not enough. Starting Sunday, Milwaukee will take on a similarly Herculean task in trying to defeat the NBA's hottest team since January without all their tools at their disposal as Shams Charania reported today that Khris Middleton would miss the whole series with an MCL sprain.
Durant's struggles against the Celtics and the complete collapse of the team around him have predictably sparked a dialogue about how good he is, really. Which is a bit silly. Boston was built to defend Durant as well as anybody and they only barely managed to complete the sweep going by score differential. Then you have to think about the utter dysfunction of Brooklyn all season long, the lack of continuity, Kyrie Irving's disappearance whilst on the court, all that jazz.
Colin Cowherd took Durant to task today on The Herd and said it straight: Giannis right now is better than Durant has ever been, by the measure of owning the "best player in the league" title.
Cowherd is right to say that Durant was never indisputably the best player in the NBA. When he reached the true height of his powers in the middle of the last decade, LeBron James was still running rampant. Durant won MVP in 2014 but nobody thought he was better than Miami LeBron.
it is unfair to use that against him, though. Giannis wouldn't be considered the best player in the league if LeBron was at the height of his powers. It is no shame to come in second to the greatest player of his generation. There can only be one of those, after all. You don't hear Cowherd making the same argument about Stephen Curry, the only player to win a unanimous MVP before losing to the best player in the league in the Finals that season.
It is hard to play this game because Giannis is at the peak of his physical prowess while Durant is on the back nine of his. They're two of the best players to play the sport. That's usually good enough, but the content machine never stops.