A Colin Cowherd-ESPN Reunion Doesn't Really Make Sense For Either Side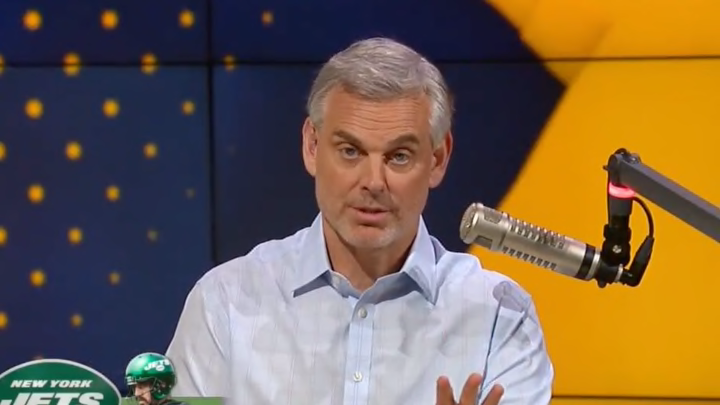 Colin Cowherd /
On Tuesday, Michael McCarthy of Front Office Sports reported that a Colin Cowherd-ESPN reunion could be in the cards when Cowherd's contract with Fox Sports expires in early 2025. Cowherd spent over a decade at ESPN before heading over to Fox in 2015. McCarthy reports ESPN's interest stems from their struggling radio enterprise. Per FOS:
But ESPN is very interested in a reunion, said sources. The brass in Bristol views Cowherd as the answer to their struggling ratings on ESPN Radio, said sources. 
As noted in the piece ESPN expressed interest in bringing Cowherd back during his last round of contract negotiations with FOX. Obviously nothing came of that but there is a track record here of ESPN wanting to bring him back.
It just doesn't make a ton of sense. For either side. At least not right now. A lot can change in 18 months but as things stand a reunion feels unlikely for a couple different reasons.
Primarily the idea that ESPN is willing to shell out big money to fix their radio ratings goes against their decision-making in that realm over the last five years. They cut Mike & Mike and tried to replace it with Keyshawn, JWilll, & Max, which also got cut in the latest round of layoffs. ESPN radio in general got hit pretty hard this summer in terms of talent exiting. I'm sure the network would like to replenish the talent in that department but doing so by going after the most high-profile media free agent we've seen yet doesn't align with how they've treated their radio properties in recent years. It just doesn't seem to matter to the network as much as television ratings, and so the premise of giving Cowherd a bag to fix their radio doesn't really line up.
The obvious rebuttal to that argument is the Pat McAfee deal. In the middle of maybe the worst rounds of layoffs ESPN has ever had to undergo, they gave McAfee a huge contract reportedly worth $85 million over four years. He is very similar to Cowherd in that he has a studio show that doubles as a radio show, so the network gets bumps for both audiences. That could end up being money well-spent for ESPN but would they double down for even more money? Cowherd could command $100 million or more over the same length of contract. It would be like if an NBA team gave out two supermax contracts and then filled out the rest of the roster with minimums. It can work, but historically that hasn't really been ESPN's way of going about things. I'm not saying they can't change but we'll have to see it to believe it if they're going to change course this drastically as far as financial decisions go.
Then there's Cowherd. He would probably love to come back to ESPN if they outbit Fox. But assuming they do not based on the reasoning above, why would he leave Fox Sports? He's king over there. The Herd is their highest-rated afternoon studio show. He has the bandwidth to do his daily show and his podcast while growing The Volume podcast network. If ESPN gives him a massive offer to help with radio they would presumably want his attention to be mostly, if not entirely, dedicated to the radio craft. He could do that while maintaining his Volume side gig but it doesn't feel likely he'd voluntarily rebalance everything unless the money was that good. Cowherd's interest in his podcast network may indicate a desire to do more of a Bill Simmons thing with his day-to-day where he does his daily stuff and otherwise is compensated handsomely for behind-the-scenes work, but it's hard to draw a definitive conclusion on that front right now.
What this comes down to is pretty simple-- if ESPN is willing to go above and beyond what Fox will offer, then a reunion is a real possibility. But their spending habits don't indicate that'll be the case. If it's all things equal it's hard to see Cowherd leaving. He's established himself as the center of Fox Sports in a way he never did and never will at ESPN. A stat was making the rounds recently that FS1 is now in more homes than any other sports cable network for the first time since its inception, which doesn't mean Fox Sports has eclipsed ESPN but it's closer than it ever has been. It's not a cut-and-dry decision the way it might've been in 2017.
The hardest thing about all this is that we're so far out from anything actually happening. So much can change between now and January 2025 in every sense. But from where we're standing at the moment, a reunion doesn't make sense for either side.