Colin Cowherd Rips Cowboys Offseason: 'It's Bad Business'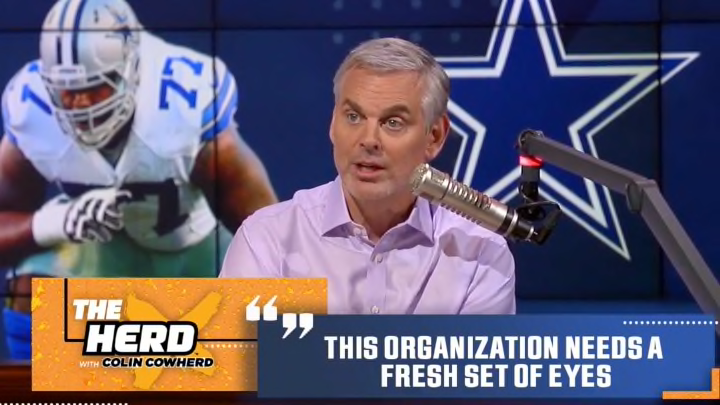 Colin Cowherd /
The Dallas Cowboys suffered a significant blow last night as starting left tackle Tyron Smith went down with what appeared to be a serious injury during practice. Reports today confirmed Smith suffered an avulsion fracture in his knee and will miss most of, if not all, of the upcoming season. Fortunately the Cowboys spent their first-round pick this past season on tackle Tyler Smith who can step in and replace their All-Pro, but that's about the only bright spot right now and it could fade quickly if this Smith isn't up to the task.
That news caps off what has been a bit of a strange offseason in Dallas. The Cowboys traded Amari Cooper and let Randy Gregory walk, doing nothing to replace either player. It seems they are relying on internal development and better overall health to build off their success from last year. So far the latter half of that plan is having trouble getting off the ground.
Colin Cowherd took a big-picture look at how the franchise conducted itself this offseason and ripped the decision-making before declaring the Cowboys need a non-Jones set of eyes to move forward the right way.
That last point has been true for a while but the Joneses aren't going to hire a real g eneral managers anytime soon. And in fairness, they've done an alright job running the front office in recent years, highlighted by finding Dak Prescott in the fourth round of the 2016 NFL Draft. Their moves this offseason are defendable, too. Michael Gallup could very well end up being better than Cooper at a lower price tag if he returns from his ACL tear with no issue. And Dorance Armstrong Jr. was quite good replacing Gregory last offseason.
Cowherd's points about the offensive line hold true, though, and it's especially problematic considering how adamant Jerry Jones has been about the offense running through Ezekiel Elliott. Even if he's completely healthy he'll struggle should the line prove porous.
Luckily for us all, real football starts soon and we'll find out if the Cowboys went about this right.