CNN Hurricane Idalia Live Report Interrupted By Two Florida Men on an Inflatable Duck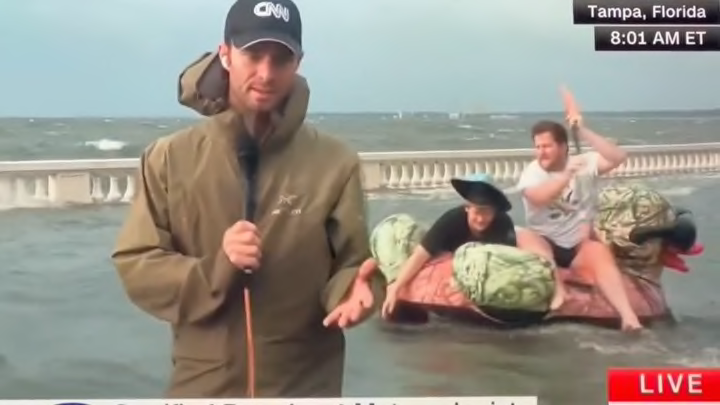 Hurricane Idalia made landfall in Florida on Wednesday morning as a very strong Category 3 storm. While most people are seeking shelter from the historic storm, there are two types of people who are braving the conditions: news teams and idiots. Both were on display on CNN this morning as two guys on an inflatable duck floated through the background of a live spot from Derek Van Dam.
The thing is, when you've got every news network having reporters go towards the dangerous storm like some kind of basic cable Jackass stunt, there are going to be people who do stuff like this. Especially when it's a chance to get on television. (All apologies to the Jackass crew who have provided so much entertainment to us over the years while avoiding natural disasters.)
Here's a FOX News correspondent up to his knees in flood water this morning in Clearwater, Florida. Even his coworkers back in the studio are voicing concerns about how dangerous this actually is.
It seems like this will go on until some is actually washed away or hit by a flying object on live television, but even then it will only be one person in 30 years. A storm like this only comes around once every century or so. At least until the next one.