Clemson Fan Beat Up in Fight During Georgia Tech Game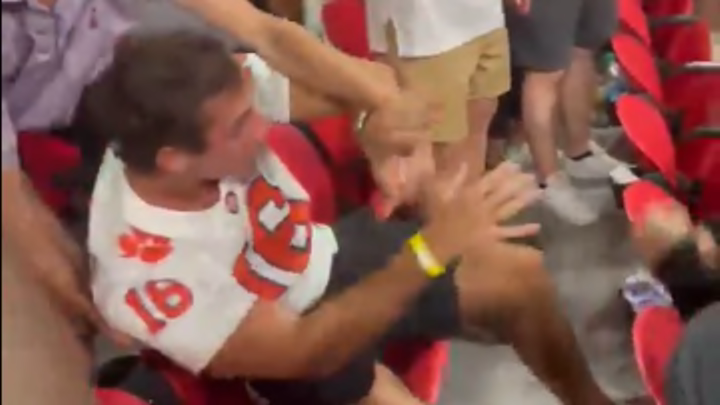 Clemson hammered Georgia Tech 41-10 Monday night during the Chick-fil-A Kickoff Game in Atlanta to wrap up Week 1 of the college football season. While the action on the field was less than thrilling, things got heated in the stands. Two fans wound up in a pretty vicious fight that provided back-and-forth action that was way more entertaining than whatever happened between the lines.
A Clemson fan exchanged some vicious punches with a guy in a black hoodie and, frankly, black hoodie looked like a kid. Clemson fan got the upper-hand early, but black hoodie fought back and wound up getting the better of the exchanged. If they hadn't been separated, it might have gotten even uglier for Clemson fan.
Check it out:
That's some excellent ground and pound from black hoodie. If not for lavender shirt guy, Clemson fan would have gone home on a stretcher.
Here's a longer video that shows what led up to the fight:
I mean, black hoodie warned Clemson jersey he'd knock him out if the guy kept talking. Promise made, promise kept.
Clemson won the game but their fans took a big L off of it.