Who Belongs 'In the Conversation'?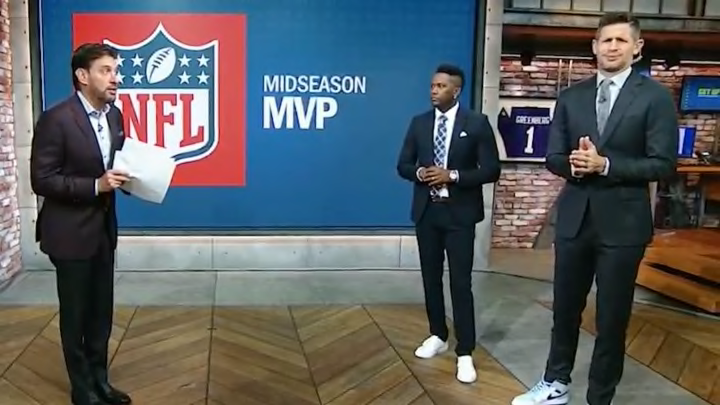 We once lived in a simpler time where the hot take industrial complex didn't need to deduce who would be a sports league's MVP if the season were to end today, perhaps because we used to realize the season never ends before all the contractually obligated games take place. But the toothpaste is not going back in the tube and, on balance, it's not terribly bad debate-show fare. So Get Up was dutifully in place to talk about the NFL's Midseason MVP, which is not a thing, this morning. Using ESPN Bet — shoutout Jack Donaghy and product integration — they ticked through the top five most-likely winners in the betting market: Patrick Mahomes, Jalen Hurts, Lamar Jackson, Tua Tagovailoa and Joe Burrow. Dan Orlvosky wanted to dig deeper and grab a moonshot so he mentioned the hottest rookie quarterback on the planet, C.J. Stroud.
Stroud threw for 470 yards last Sunday as the once-awful Houston Texans improved to 4-4. His offense is sixth in the NFL in scoring and is turning it over the least. Stroud is seventh in passing yards, third in yards per attempt, third in yards per game, sixth in touchdowns, and first in interceptions. All of this leaves him as the fourth-highest rated signal caller in the league. And when you consider all of these factors you can only conclude one thing: Stroud does belong in the conversation.
Depending on how expansive the conversation intends to be. In the conversation is another buzzy phrase that's taken hold, for good reason because the No. 1 goal of voicing opinions into a microphone is to spark conversations and engage the viewer in the one taking place right in front of them. But we don't really have any solid definitions to give shape to any type of cutoff for where the conversation ends. That's a strong case to be made that Stroud will finish in the top-10 or even top-7 in voting when all is said and done. Yet imagining a world where he could rise over all the other more established names on ESPN's graphic is almost impossible to do. If he has no realistic shot of winning the thing, one could ask what the value add is by having him in the conversation.
Player-based conversations are clearly different than team-based conversations. For instance, the Detroit Lions and Jacksonville Jaguars deserve to be in the Super Bowl conversation because they could get hot in a single-elimination tournament and win it all, even if we tend to all agree neither is the most complete team. Award- or status-based conversations around an individual are a bit different. Even the biggest Stroud supporters would admit that he's, at best, maybe the sixth-best quarterback and there exists a real gulf between what he does and what Patrick Mahomes both does and can be expected to do. So you can say they are in the same conversation but the more important conversation is one that has a bit more nuanced and ends with saying hey, Stroud rules and maybe he'll get there one day but today is not that day.
On balance, though, these conversations seem like a net positive as they provide an opportunity to give more players more love so keep them coming. I just don't know what they mean, if anything.