Chris Paul Got Snippy When Asked About Coming Off the Bench For the Warriors
His Carmelo Anthony moment?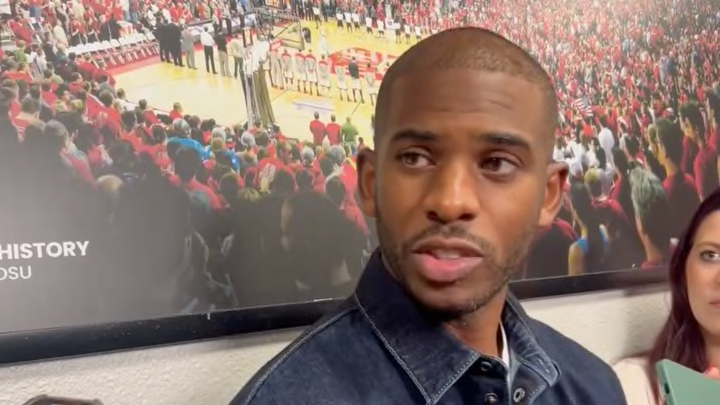 Chris Paul /
Chris Paul spoke to reporters for the first time as a member of the Golden State Warriors on Sunday afternoon. It still does not seem real that Paul will be suiting up alongside Stephen Curry and Klay Thompson after the three engaged in some epic playoff battles a few years ago. But the NBA is a strange place and the Warriors exchanged Jordan Poole for a veteran they hope can produce more consistent points with his passing and court vision.
It also seems inevitable that Paul will come off the bench. He obviously isn't getting starts over Curry and playing both of them doesn't give the Dubs a lot of size in the backcourt. Additionally, Paul is 38 years-old and embracing the backup life will do a lot to manage his minutes and health. It's obvious to everybody that it makes the most sense for him to run with the reserves. Obvious to everyone except Paul, who did not appreciate the assumption that he would, in fact, come off the bench during his interviews yesterday.
This is not quite as flippant or boisterous as Carmelo Anthony literally scoffing at the idea of coming off the bench back when he joined the Oklahoma City Thunder. But might his Banana Boat Buddy be suffering from a similar affliction? It is hard for any star NBA player to come to terms with his declining skills and body in order to accept a lesser role. It is even harder for true superstars and future Hall of Famers. It might just be impossible for Paul, a superstar/future Hall of Famer and infamous control freak who loves to organize everything just the way he likes it.
However insane Paul can be in that regard, though, he is too smart to not know that this is his last shot at that elusive championship. Despite the not-so-joking tone he had when asking that reporter if she was coaching, he'll be coming off the bench and act happy about it.
If he does not, though, this will be looked back upon as his Icarus moment, just like Melo.