Chris Broussard Dons Paper Bag of Shame After Picking Nets to Win East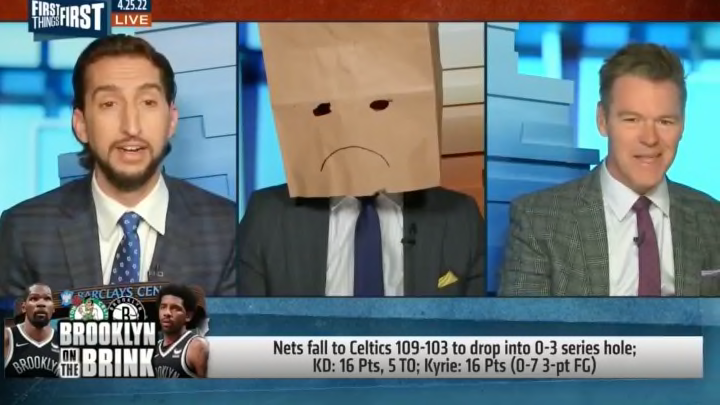 Chris Broussard's Shame /
The Brooklyn Nets have disappointed just about everybody outside the greater New England area in the first round of the NBA playoffs. The two-headed monster of Kyrie Irving and Kevin Durant was so intimidating before the postseason began that the Nets were far and away every analyst's favorite upset pick. Some went so far as to say the Nets were the best team in the conference and would be representing the East in the Finals this year.
Well, the Celtics have made all those people look bad and while the series isn't over, it's time for all these cold takes to be exposed. Chris Broussard revealed himself to be ahead of the curve in that regard, donning a paper bag of shame on this morning's First Things First and blasted Durant and Irving for their performances over the first three games.
Good on Broussard for getting in front of that particular take. It's hard to blame him in retrospect. Durant and Irving are that good. But Boston's defense has been utterly stifling and the superstar pairing hasn't been able to adjust for a number of reasons.
It should be noted that Broussard was not alone and there are many others in the sports media realm who should also don the paper bag of shame. But he'll probably be the only one brave enough to do it on camera.