Chris Broussard: Jimmy Butler 'Sonned' the Boston Celtics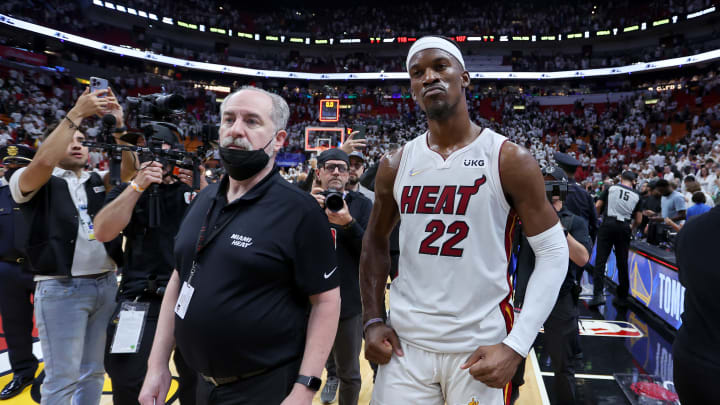 Michael Reaves/GettyImages
Jimmy Butler continued to add to his expansive playoff legend by scoring 41 points for the Miami Heat in a series-opening victory over the Boston Celtics. Butler did it as he always does, in the old-school way. His 12-of-19 shooting did not include a made three-pointer and he marched to the line 18 times, missing only one attempt. Despite being a decade older than Jayson Tatum, the star on the other side, Butler was relentless and energetic as he pushed the ball every opportunity he could and never let the defense rest. It was a vintage performance and one we should all be getting used to seeing.
On this morning's First Things First, Chris Broussard offered this summation: that Butler simply 'sonned' the Celtics. Much like he's 'sonned' younger opponents in the previous two rounds.
Three 40-point outputs in the playoffs is pretty special. And although the superstar tab is a moving target, we've seen more than enough from this guy to slap it on him and not worry about it falling off. Longtime fans of the NBA can delight in his ability to translate skills of eras past into today's game, and his efficiency shooting mid-range jumpers and collecting free points at the line suggests the pendulum is at least open to swinging in a different direction than triple try after triple try.
All of the discussions about who will assume the torch from LeBron James and Kevin Durant focus on younger players like Tatum and Luka Doncic but it's worth considering that Butler may take it by brute force for a few years. Miami is seven wins away from one of the more impressive team titles in a long time and they have a perfect engine in Butler, who embodies the best traits of Heat Culture.
It's awesome to watch him show up to an arena and say 'hell no, not today' before lighting up an opponent unable to match his intensity. Huge, huge victory for people in their 30s.