Chiefs' Spinning Huddle Trick Play Touchdown Didn't Count, Should Still Embarrass Raiders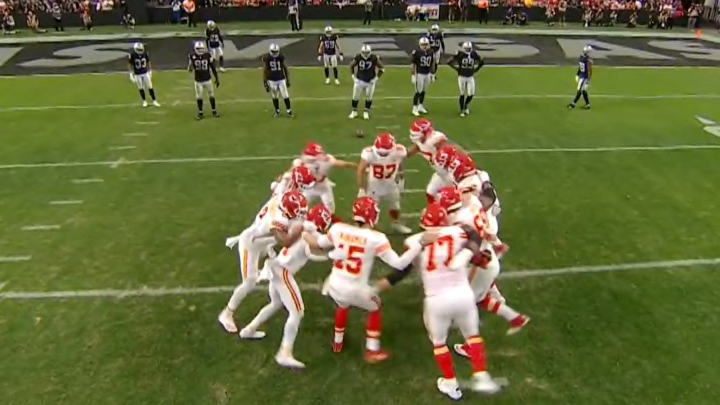 The Kansas City Chiefs and the Las Vegas Raiders kicked off week 18 on Saturday. The Chiefs had a 24-3 lead at halftime and things were going so well that they attempted something that probably has never happened in an NFL game before. On 2nd and 3 from the 9 Kansas City went into a spinning huddle before lining up in a very crowded backfield with Jarick McKinnon taking the snap.
McKinnon pitched the ball to Patrick Mahomes who threw it back across the field to Kadarius Toney. With the help of Orlando Brown, Toney broke the tackle and scored. Center Creed Humphrey was called for holding, which nullified the touchdown, but Toney scored on the next play anyway.
This is just an uneccessary way to end the Raiders season. Another loss is one thing. Trick huddles direclty leading into trick plays is another. Even the dots got in on the action.
It's going to be a long offseason for Josh McDaniels.